Artist Talk by Jozef Pilat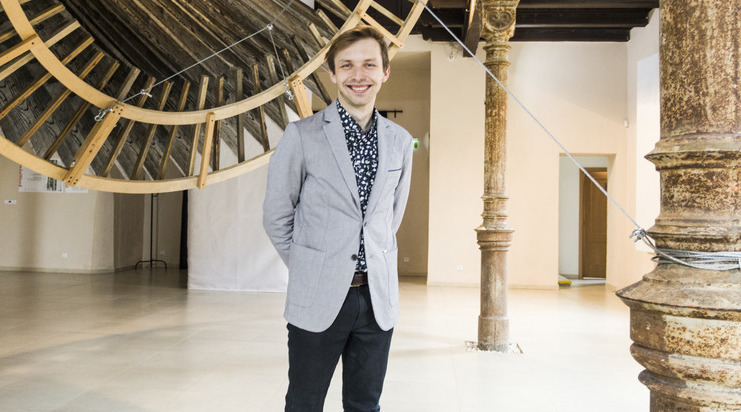 June 24, at 7 PM, the Slovak artist Jozef Pilat will hold an artist talk, prior to the opening of his personal exhibition Let's Make a Paradise Together, which will open on July 29, at 6 PM, at the space of Creative Community IZONE.
Jozef Pilat was born in Poprad, Slovakia, in 1992. In 2013–2018, studied painting and the public art at the Warsaw Academy of Fine Arts, and painting at the Berlin Uniwerität der Künste. Scholarships: Rector of Academy (2014–2018) and Ministry of Culture and National Heritage (2018).
He has experimented with various mediums such as painting, 3D printing, installation, VR. In his work, he avoids limiting himself to one tool. The idea is the most important for the artist. In implementing it, Jozef swings between different means of communication.
Jozef has presented his works at the following festivals of contemporary art: LUNCHMEAT (Prague, The Czech Republic), Biela Noc (Kosice, Slovakia) and in the galleries: WHITE (gallery La Chaufferie, Strassburg, France, 2015); Überdumpsterthreesome (Zwitsher Maschine Gallery Berlin, Germany, 2016); Nature as place for all, curator: Anna Podsiadly (gallery in the Centre of Polish Sculpture in Oronsk, Poland, 2016); ŠUNAWOOD, curator: Dominika Chrzanová (synagogue Trnava, Slovakia 2019); Something old, something new, something borrowed, something blue, curator: Sebastian Winkler (Galeria 18A, Warsaw, Poland, 2018).
Jozef Pilat is a co-founder of PLASK animation studio, that connects artists from Poland and Slovakia (PL&SK).
He won entry: Inicjatywa ENTRY, grants for students graduating from the Academy of Fine Arts in Warsaw and nominated for SIEMENS Arts Program (Warsaw). Two-time winner of the New Europe Talent Prize awarded in Bratislava.
Published:
23 June 2019, 17:02