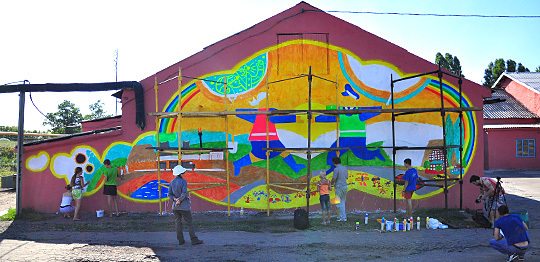 27 August 2012 — 27 October 2012
Creation with IZOLYATSIA is a comprehensive program of IZOLYATSIA for reorganizing of the surrounding space through the creative potential of new generations. Young people will have an opportunity to design their own world, their own town, and their own environment, full of creative energy. In such environment children grow up free and realize that all surrounding space belongs to them, and anyone can change the world.
A clear example of changes will be the collective process of creating of artworks of different genres on the streets. It will bring together project participants of all ages and unite them around a single idea – from the discussion of the composition till the creation of the artwork itself – and will become a tool to cultivate a sense of personal and corporate responsibility for the common living space and our streets as a part of.
Examples of such activities could be traced in many countries around the world, but we have set the goal to find our own format of this creative and social work.
"We are able to love our city for what it is - before we claim to improve the quality of life - and we can give an impulse of positive thinking for new generations for many years," - Roman Minin, the project leader, says.
IZOLYATSIA will be a natural source of the impulse in strict accordance with its philosophy that is to give the symbolic definition of the present and to make it the source of inspiration for the future.
Photo archive
Video archive