Press Conference Prosecutor General of Ukraine Sees No Grounds for Criminal Proceedings against Roman Lyagin, Party of Regions' Ex-PR Person and "DPR" Ideologist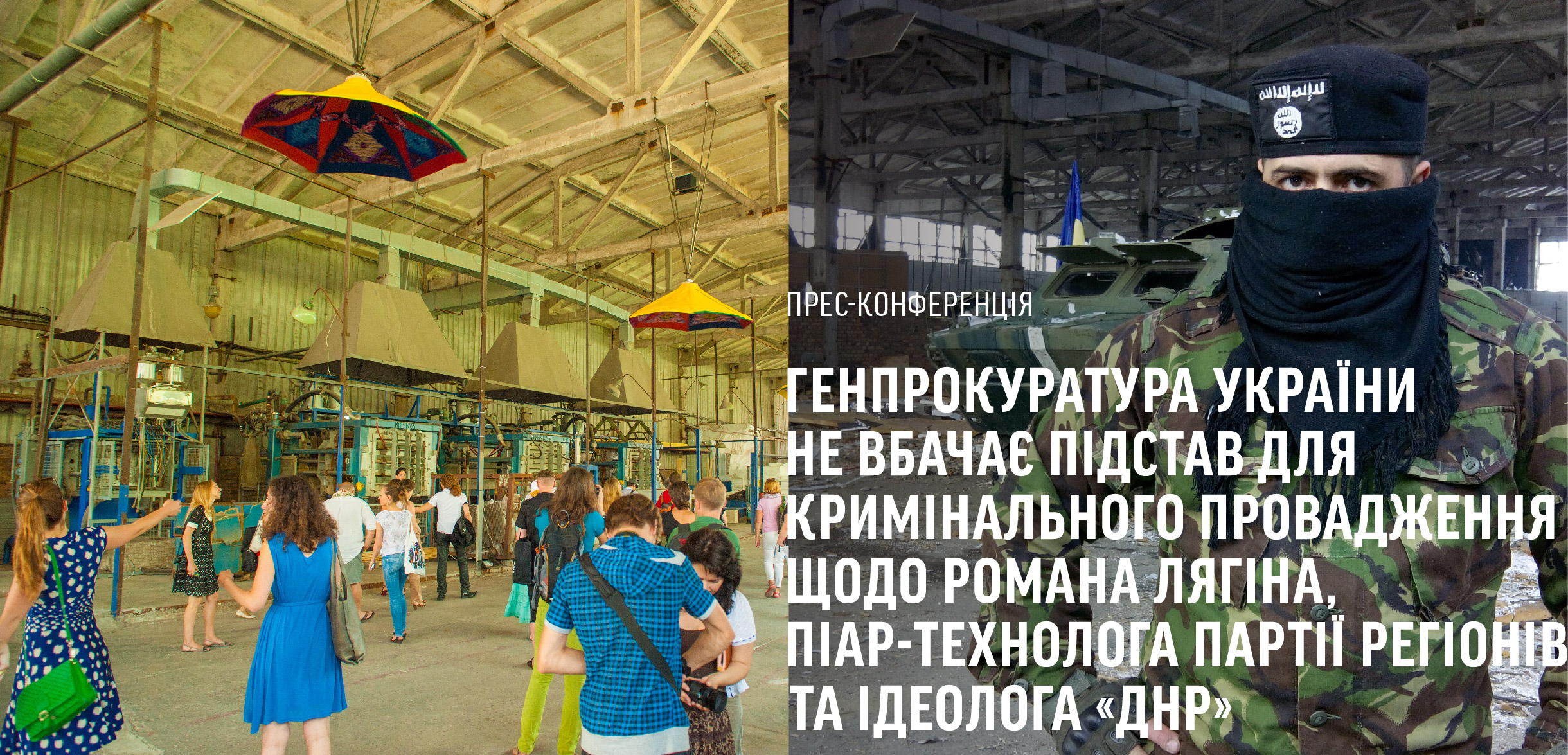 12 December 2017
On December 21, 2017, at 1 PM, at the Ukrainian Crisis Media Centre, representatives and lawyers of IZOLYATSIA will present the current state of affairs with the investigation of the destruction of IZOLYATSIA's cultural centre in Donetsk in June 2014. Despite the criminal proceeding started back in 2014, the Office of the Prosecutor General of Ukraine has still not pressed charges against the representatives of the self-proclaimed "Donetsk People's Republic" responsible for the destruction of IZOLYATSIA in Donetsk.
On June 9, 2014, armed DPR soldiers carried out a premeditated attack on the international charitable foundation IZOLYATSIA located at the former insulation materials factory in Donetsk. The take-over was led by Roman Lyagin, the then-Minister of labour and social policy of the "DPR", ex-political consultant of the Party of Regions and initiator of the illegal referendum held in Donetsk on May 11, 2014. The seizure resulted in the destruction of two thirds of IZOLYATSIA's art collection, including works by Daniel Buren, Cai Guo-Qiang, Pascale Marthine Tayou and others. The IZOLYATSIA team was forced to exile to Kyiv.
After the seizure, "DPR" transformed the territory of IZOLYATSIA into a training camp, illegal prison with torture chambers and execution yard, arms depot, and an improvised film studio producing propaganda fakes.
In 2015, Verkhovna Rada of Ukraine has recognised "DPR" and "LPR" as terrorist organisations. Crimes committed by Roman Lyagin himself and people executing his orders on June 9, 2014 in Donetsk qualify as a terrorist act and a criminal offence according the Article 258 of the Criminal Code of Ukraine. The seizure of IZOLYATSIA has also had a symbolic meaning: Donbas' biggest centre of culture, well known in Ukraine and abroad, has always had an active social position and promoted democratic values and freedom of expression contradicting the ideology of the "Novorossiya". The Prosecutor General's reluctance to recognise the destruction of IZOLYATSIA a terrorist act, despite all the evidence, is thus clearly against the law.
IZOLYATSIA demands from Ukraine to officially recognise the destruction of its cultural centre a terrorist act as well as to press criminal charges against the organisers and perpetrators of this crime.
Participants of the press conference:
- Luba Michailova, Founder, IZOLYATSIA. Platform of Cultural Initiatives
- Igor Golovan, Managing Partner, Golovan & Partners Law Firm
- Representative of the Chief Military Prosecutor of Ukraine
Photo archive
Video archive