Die Grenze. Discussion programme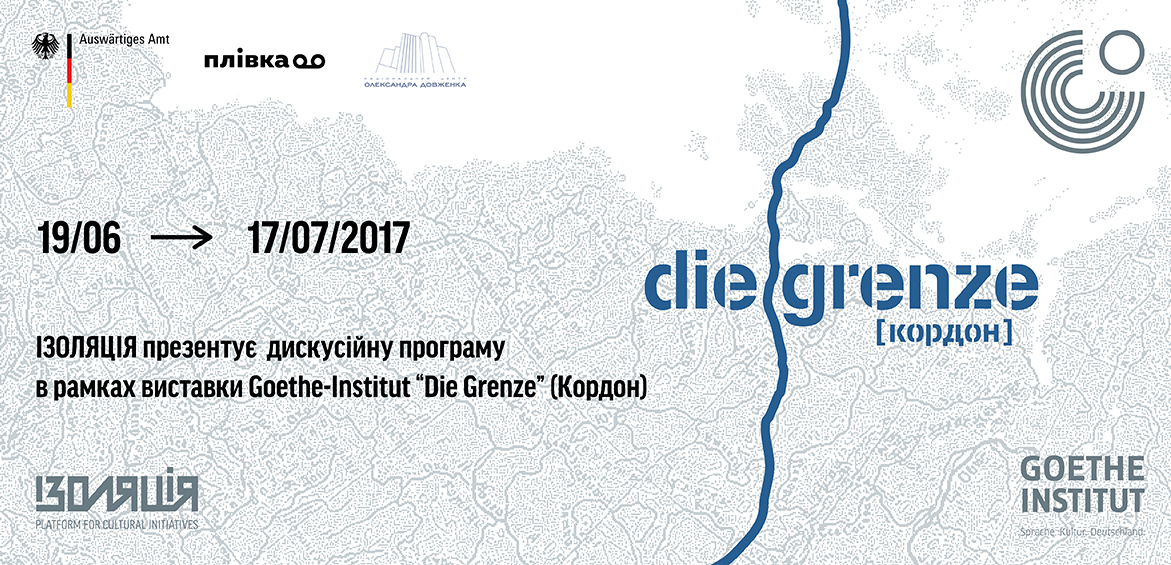 19 June 2017 — 17 July 2017
On June 19 – July 17, 2017, as part of the Donbas Studies project, IZOLYATSIA presents a public programme of the Die Grenze exhibition by the Goethe-Institut Ukraine. The programme will comprise discussions, a theatrical performance, and film screenings – all featuring Ukrainian and German experts.
LIST OF EVENTS
June 19 – Mon, 7 PM
IZONE, 2nd FLOOR
Imaginary Borders and the Reality of Politics: dialogue of philosophers Vakhtang Kebuladze and Vladimir Yermolenko
A public dialogue by philosophers Vakhtang Kebuladze and Vladimir Yermolenko will focus on the political aspects of the modernity, categories and definitions of border, edge, limit, frontier, and others.
Vakhtang Kebuladze – philosopher, Doctor of Philosophy and Associate Professor of Kyiv National Taras Shevchenko University, translator, author of numerous scientific articles and three books: Phenomenology. Manual, Phenomenology of Experience, and Honeycombs of Destiny.
Volodymyr Yermolenko – philosopher and essayist, PhD in Political Science at L'École des hautes études en sciences sociales (EHESS, School of Advanced Studies in Social Sciences), Paris, France. Senior Lecturer at the National University of Kyiv-Mohyla Academy. Expert advisor to the International Civil Organization Internews-Ukraine. Recent books: A Storyteller and Philosopher: Walter Benjamin and His Age, Distant Relatives, The Catcher of the Ocean.
June 23 – Fri, 7 PM
IZONE, 2nd FLOOR
Film screenings MyStreetFilms-Frontier by the festival of film and urbanism 86
Film screenings and discussion What is the way to overcome the barrier? involving young filmmakers and their protagonists from the East of Ukraine by MyStreetFilms-Frontier.
MyStreetFilms-Frontier offered young directors and film amateurs to make a movie about their street, their neighbour, their spot or a town in Luhansk or Donetsk regions. The dictionary defines boundary as limit line, border, brim, edge, something that fixes limit or extent. But boundary also means a threshold, a stage of development. In recent years, there has been an information boundary in the East, with its "militants", "terrorists", "threats" and "forces". We are in the need of people's faces, living voices, and real stories. That is why this year MyStreetFilmsUkraine went to a new development level and set off to break the boundary.
June 27 – Tue, 7 PM
IZONE, 1st FLOOR
On the Edge, theatre combination performance by Piotr Armianovski
On the edge. A theatrical collaboration with Lana Ra (Svitlana Konoschuk). Director Piotr Armianovski. For a person on the edge, choosing between life and suicide, what can be an inspiration and support to go on? The play reflects on how one follows his pain and fears but finds motivation to live.
Actors: Yevgen Konoschuk, Andriy Lagoda
Scene designer: Kira Perepelitsa
July 11 – Tue, 7 PM
IZONE, 4th FLOOR
Frontiers of Isolation – presentation of IZOLYATSIA's projects on borders
IZOLYATSIA is a non-profit non-governmental platform for contemporary culture founded in 2010 on the territory of a former insulation materials factory in Donetsk, Ukraine. On June 9, 2014, the territory was seized by the militia of the self-proclaimed "Donetsk People's Republic". IZOLYATSIA has relocated to a shipyard in Kyiv and continues to present cultural projects and support socially active artists and creative producers in Kyiv, throughout Ukraine, and worldwide, as well as serving as a resource for international curators, scholars, artists and ambassadors.
Mykhailo Glubokyi, IZOLYATSIA's Director of Development and Сommunications, shares his experience of institutional boundaries and cases, and reflects on the internally displaced institution aiming to overcome the cultural isolation in society. Projects by IZOLYATSIA dealing with the topic of borders include Reconstruction of Memory, Crawling Borders, #onvacation, Zahoplennya, and Underground Dreams.
July 17 – Mon, 19:00
IZONE, 1th FLOOR
Lecture The Myth of Europe & the Myth of the Border by Natalia Kryvda
The lecture will focus on European mythology and mythological aspects of the formation of modern Europe. Mythologisation of history has been and remains one of the most pressing and controversial topics that affect society. A historical myth is one of the most powerful tools of manipulation of public opinion, as our society came to know firsthand in recent years . "The reality is that which exists, an actualised possibility. What is the reality surrounding us? Which of the possibilities has been actualised? Or is this only our perception? Myths exist in any society, regardless of whether society accepts them or not" (Mircea Eliade).
Natalia Kryvda – Doctor of Philosophy and professor at the Taras Shevchenko National University of Kyiv, Academic director of Edinburgh Business School in Ukraine, expert of Reanimation Package of Reforms. She has more than 20 years of teaching experience and scientific activity. In 2004, 2005 and 2007 she was voted the best teacher at the Philosophy faculty of the Taras Shevchenko National University of Kyiv. She is the author of the monograph Ukrainian Diaspora: The Experience of Culture Formation as well as more than 50 scholarly papers, co-author of several books.
The IZONE Creative Community is located at 8 Naberezhno-Luhova Street.
Media Partner