Grayson Perry. The Vanity of Small Differences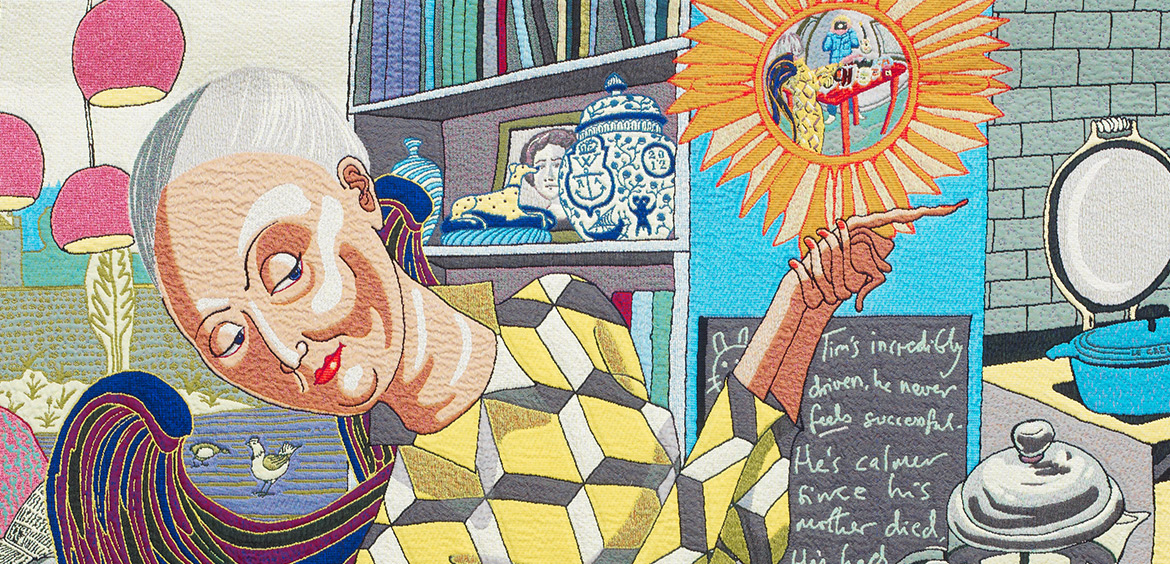 Grayson Perry The Annunciation of the Virgin Deal (detail) 2012 © the artist. Arts Council Collection, Southbank Centre, London and British Council. Gift of the artist and Victoria Miro Gallery with the support of Channel 4 Television, the Art Fund and Sfumato Foundation with additional support from Alix Partners.
On February 16 – March 22, 2017, IZOLYATSIA is hosting The Vanity of Small Differences, an exhibition by one of the most high-profile contemporary British artists, Grayson Perry. The event marks the start of the British Council's 25th anniversary celebrations of its work in Ukraine and the launch of its 2017 arts programme.
The Vanity of Small Differences consists of a series of six large-scale tapestries by Perry, which explores the British fascination with taste and class.Inspired by the 18th-century painter William Hogarth's moral tale, A Rake's Progress, which also is a part of the exhibition, the tapestries follow the life of a fictional character called Tim Rakewell, as he develops from infancy through his teenage and middle years, to his untimely death in a bloody car accident.The tapestries are rich in both content and colour and depict many of the eccentricities and peculiarities associated with life in the UK, from interior design to British cuisine, political protest and celebrity gossip. The composition of each tapestry also recalls early Renaissance religious painting, drawing us into an art historical, as well as a socio-political exploration. The tapestries were produced in 2012 and have previously been exhibited in numerous museums around the world.
Grayson Perry won the Turner Prize (the UK's leading annual prize for contemporary arts) in 2003 and is well known for his highly-crafted ceramics providing astute commentary on aspects of modern British life, as well as for his alter-ego Claire whom he often dresses up as.
In Ukraine, the exhibition is being organised by the British Council in partnership with the IZOLYATSIA. Platform for cultural initiatives in Kyiv. The event will be also accompanied by educational programme: a three-part Channel 4 documentary All in the Best Possible Taste with Grayson Perry, which follows Perry as he develops his ideas for the tapestries and travels to towns and cities across the UK investigating what 'taste' is and how it differs from place to place; and five lectures on modern arts each Saturday – from 15.00 till 17.00, prepared by the Cultural Project.
On Thursday, 16 February, at 5 pm, a press conference will be held at IZOLYATSIA (8 Naberezhno-Luhova St.), devoted to the exhibition and the British Council's 25th anniversary in Ukraine. The press conference will be followed by a press tour of the exhibition. To register, please follow the link.
'We're delighted to launch our 25th-anniversary celebrations in Ukraine with this fantastic exhibition by one of the UK's most well-known contemporary artists. For the past 25 years, the British Council has been celebrating the best of the UK's culture and making connections between talented and exciting Ukrainian and British artists, so I can't think of a better or more representative way to mark ouranniversary.' Simon Williams, Director British Council Ukraine.
'We're thrilled to have this exhibition mark our largest collaboration with IZOLYATSIA to date (and open our 25th-anniversary programme). This is a complex and fascinating project in which documentary filmmaking and research, textile art and cultural history combine to produce an arresting visual document about contemporary British society.' Pablo Rossello, Director Arts British Council Ukraine.
'Grayson Perry's exhibition marks a new chapter in the rich history of collaboration between IZOLYATSIA and the British CouncilinUkraine.The Vanity of Small Differencesis a thought-provoking critique based on the artist's incisive research of UK society – a themeat the core of our institution since its inception. Socially-conscious art has been at the epicentre of IZOLYATSIA's interest all these years. As relevant here, as in the UK, we feel truly honoured to welcome to Ukraine an exceptional project by thisTurner Prize-winning artist.' Luba Michailova, Founder, IZOLYATSIA.
Organisers of the Grayson Perry's exhibition in Ukraine: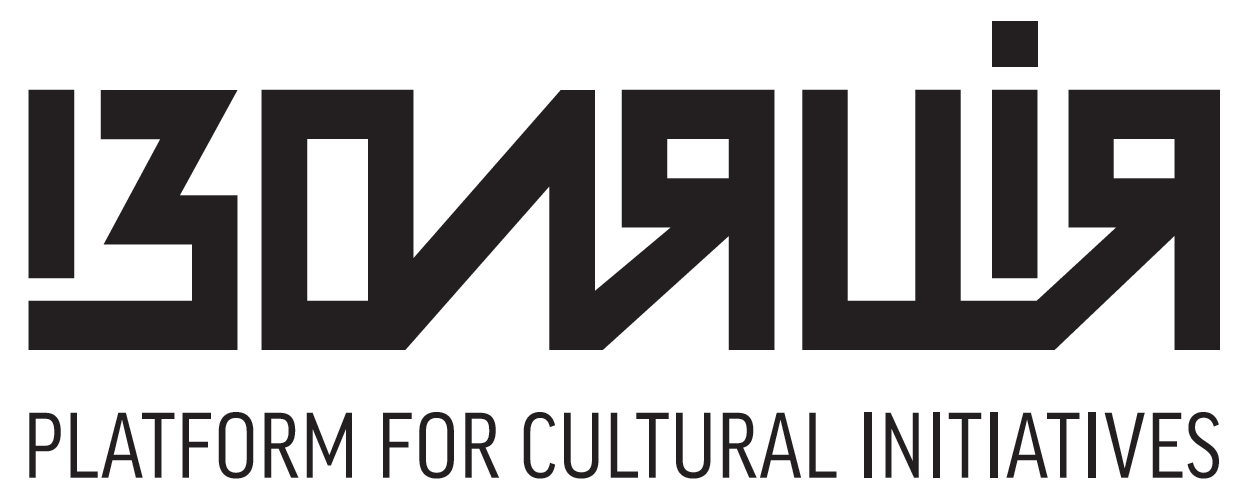 Organisers and partners of the Grayson Perry's exhibition world tour are Arts Council Collection, Southbank Centre, London and British Council.Gift of the artist and Victoria Moro Gallery with the support of Channel 4 Television, the Art Fund and Sfumato Foundation with additional support from Alix Partners.

For more details please contact the British Council's communications manager, Yulia Chuzha, by phone 044 490 65 05 or email: [email protected].
Grayson Perry (b. 1960) was born in Chelmsford, Essex and lives and works in London. He is one of the UK's most celebrated contemporary artists and has had major solo exhibitions at The British Museum, London (2011), 21st Century Museum of Contemporary Art, Kanazawa, Japan (2007), Andy Warhol Museum, Pittsburgh (2006), Barbican Art Gallery, London (2002) and the Stedelijk Museum, Amsterdam (2002). Grayson Perry won the Turner Prize in 2003.
IZOLYATSIA is a non-profit non-governmental platform for contemporary culture founded in 2010 on the territory of a former insulation materials factory in Donetsk, Ukraine. On 9 June 2014, the territories were seized by the militia of the self-proclaimed /Donetsk People's Republic'.
IZOLYATSIA has relocated to a shipyard in Kyiv and continues to present cultural projects and support socially active artists and creative producers in Kyiv, throughout Ukraine, and worldwide, as well as serving as a resource for international curators, scholars, artists and ambassadors.
IZOLYATSIA is a platform for cultural initiatives. It is a multidisciplinary cultural project open to all genres of creative expression. It is a point of intersection for all those passionate about cultural and social change.
The British Council is the UK's international organisation for cultural relations and educational opportunities. The institution creates friendly knowledge and understanding between the people of the UK and other countries. The British Council works with over 100 countries across the world in the fields of arts and culture, English language, education and civil society.
Founded in 1934, BC is a UK charity governed by Royal Charter and a UK public body. The majority of income is raised delivering a range of projects and contracts in English teaching and examinations, education and development contracts and from partnerships with public and private organisations. Eighteen per cent of the funding is received from the UK government.
For more information, please visit www.britishcouncil.org.ua. You can also keep in touch with the British Council throughfacebook.com/BritishCouncilUkraine and twitter.com/uaBritish.
The British Council Collection is one of the most significant public collections of 20th and 21st Century British art in the world. It is specifically designed to support stronger links between Britain and other countries, and to encourage collaboration and partnership between British and international artists and institutions. The Collection, founded in 1938, now numbers almost 9000 works which we lend to national and international institutions for public exhibition. www.britishcouncil.org/collection
The Arts Council Collection supports artists in this country through the purchase and display of their work. Since it was founded in 1946, the Collection's acquisitions policy has always been characterised by a spirit of risk taking combined with an informed appraisal of current practice. As a consequence the Arts Council Collection is now the largest national loan collection of modern and contemporary British art in the world, and includes fine examples of work by all of this country's most prominent artists. It is the most widely circulated of all of Britain's national collections and can be seen in exhibitions in museums and galleries across the UK and abroad. www.artscouncilcollection.org.uk
Published:
1 February 2017, 13:59
Media partners