Exhibition The Corrosion of Character (L'uomo flessibile)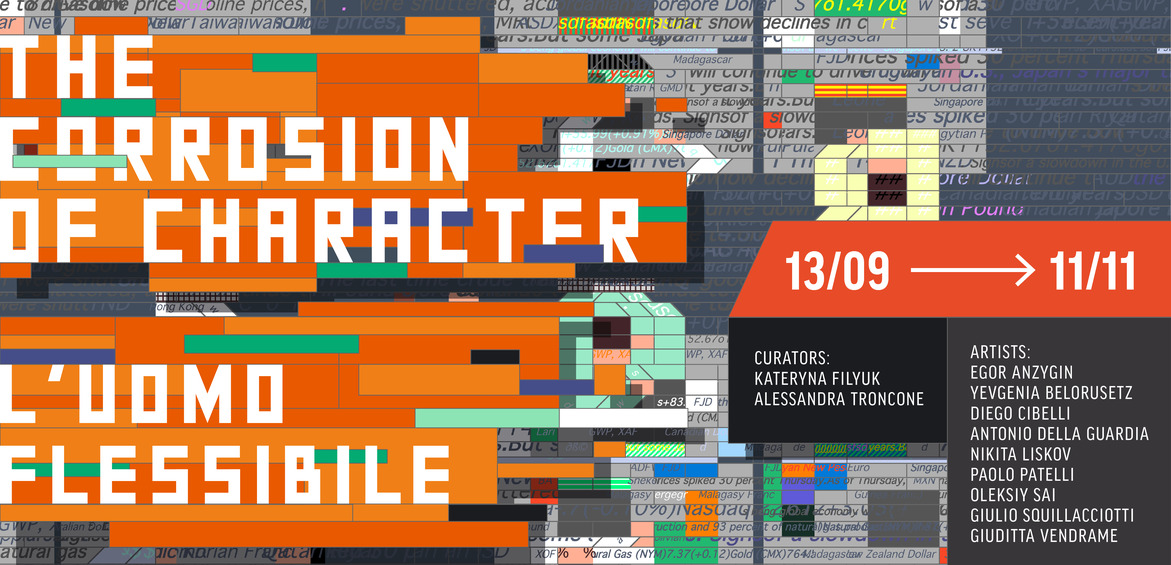 The exhibition The Corrosion of Character (L'uomo flessibile), curated by Kateryna Filyuk and Alessandra Troncone, will take shape as a dialogue between Italian and Ukrainian artists from the last generation on the topic of labour as a mirror to understand a more complex reality, focusing on how fluidity and precarity have strong consequences on individuals nowadays.
Taking inspiration from the essay by Richard Sennett, The Corrosion of Character (translated into Italian with the title L'uomo flessibile), the curatorial concept aims at exploring how the conception of labour affects contemporary private life in terms of personal relationships, usage of spare time and the process of being part of communities. Indeed, in the era of "flexibility", linear time and consequential narration have been turned into the unpredictable fragmentation of the "gig economy" as a consequence of the late development of the capitalist system, leading to constant changes and mobility.
At the same time, as the IZOLYATSIA site shows with its active shipyard, there is still labour that imposes routine and fixed times, allowing little space and time for personal freedom. This traditional form of labour endures alongside a new creative economy blooming at IZONE. Here, looking out upon over the old shipyard buildings, all sorts of creative entrepreneurs exercise flexible hours in the open space. The coexistence of these two approaches to labour is at the core of the exhibition, which mainly questions the border between working and private life, and how they affect each other in the short and long time.
The exhibition will bring together both existing artworks and new commissions by Italian and Ukrainian artists. The works in the show will tell different stories about the relationship between workers, their workplace and their personal lives, raising questions about how much job defines identity, the perception of freedom and which strategies can be adopted to face the changes in the conception of the labour nowadays, starting from the Ukrainian context and specific situations, but also including various and further narrations. Looking at the picture as a whole, precarity appears as an aspect that links different cases, not only in terms of temporary jobs but as a shared feeling that strongly characterizes the idea of labour itself in contemporary society.
---
Exhibition Details:
Curators: Kateryna Filyuk and Alessandra Troncone
Artists: Egor Anzygin, Yevgenia Belorusetz, Diego Cibelli, Antonio Della Guardia, Nikita Liskov, Paolo Patelli, Oleksiy Sai, Giulio Squillacciotti, Giuditta Vendrame
Project Manager: Natasha Andrieieva
Exhibition opening:
13 September, 2019; 7 PM
Venue:
IZONE Creative Community; Floor Two
Naberezhno-Luhova, 8 (Kyiv, Ukraine)
Exhibition schedule:
13 September – 11 November, 2019
Monday to Sunday
10 AM – 8 PM
Entry is free
---
This project has been realized with the support of the Fondazione la Quadriennale di Roma, the Ambasciata d'Italia in Ucraina and Istituto Italiano di Cultura di Kiev.
Published:
21 August 2019, 18:04