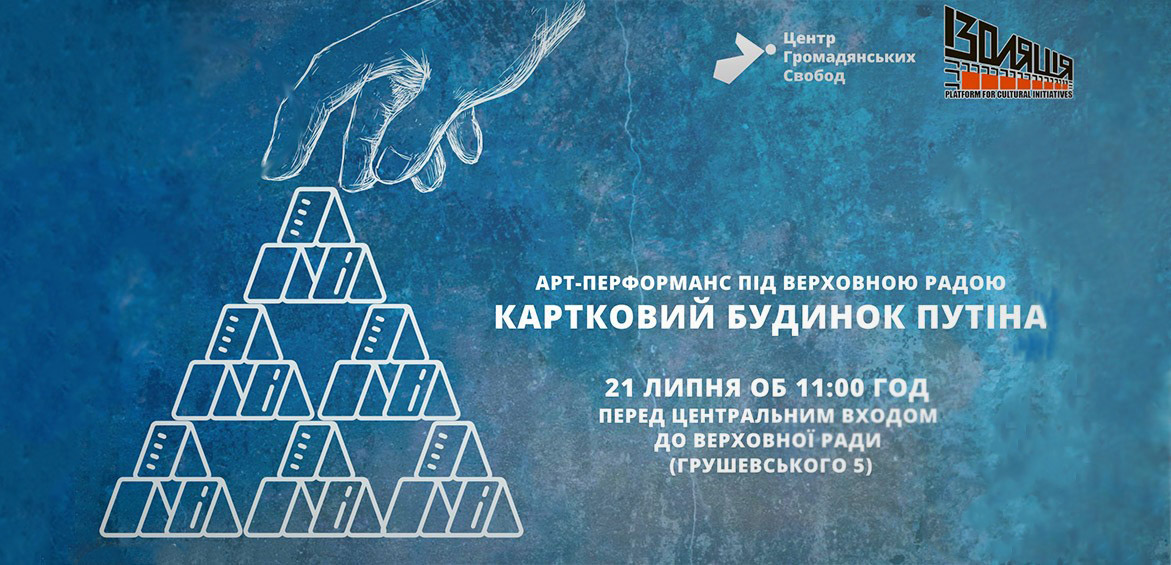 On Tuesday, July 21, at 11:00 am, "Putin's house of cards" performance by Donetsk artist Serhiy Zakharov will take place in front of the main entrance to the Verkhovna Rada (Hrushevskoho 5). With this symbolic action, former prisoners, their relatives, human rights activists and artists want to draw the attention of the members of Parliament to the problem of impunity for war crimes.
For the seven years of the war, the parliament did not find time to pass a bill on war criminals (b. 892689), which establishes responsibility for crimes against humanity and war crimes in the Criminal Code. This gives both members of illegal armed groups and Putin himself every opportunity to evade justice.
Protesters will ask the members of parliament who have gathered for an extra session when this issue will finally "be on time" in the country's parliament, where people are being abducted and tortured in the occupied territories of Crimea and Donbas. And why the adoption of changes to the law on gambling is more important than the law that awaits tens of thousands of illegal prisoners.
The art performance will be followed by a briefing for journalists with the participation of:
Stas Aseev, journalist, writer, former prisoner;
Serhiy Zakharov, Donetsk artist, former prisoner;
Denis Monastyrsky, Chairman of the Law Enforcement Committee (confirmation expected);
Oleksandr Hryshchenko, veterinarian, former prisoner;
Oleksandra Matviychuk, Chairman of the Board of the Center for Civil Liberties.
Contacts:
Serhiy, Center for Civil Liberties, ccl.org.ua@gmail.com +380672389928
Natalia, IZOLYATSIA Foundation, krasnenkova@prhouse.com.ua +380674655426