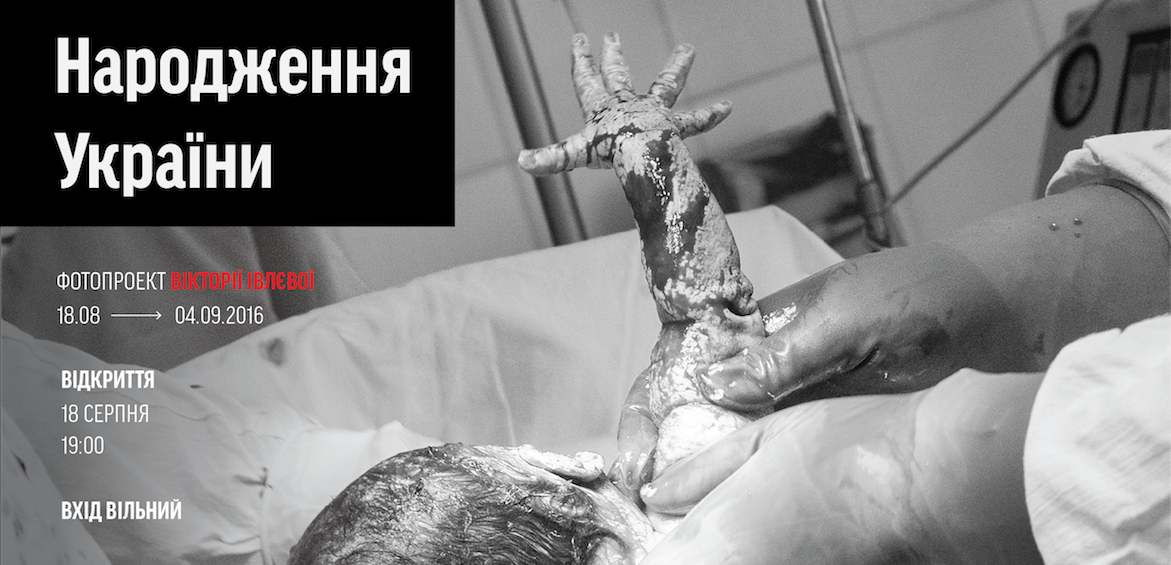 On August 18, at 7 PM, IZOLYATSIA presents the exhibition The Birth of Ukraine by Victoria Ivleva. Victoria Ivleva is a Russian photographer and journalist. In spring 2016, she has travelled around Ukraine, visiting every capital of region and taking pictures of childbirth, as a symbol of birth of a new national identity in the country.
The idea behind the project is a metaphorical interpretation of the birth of a nation, which, similarly to a childbirth, runs through pain, suffering and blood. Euromaidan, war in Eastern Ukraine, the annexation of Crimea and, at the same time, a rare uplift of enthusiasm among Ukrainians - all these are signs of the times. According to Ivleva, only now, after going through these conflicts, does Ukraine take on a new quality. These historical processes are symbolically expressed in the photographs of women in labour and newborn children.
The present project is not Ivleva\'s first work in Ukraine. Immediately after Euromaidan, she travelled all over the country, from Donetsk to Ivano-Frankivsk, and published her travel notes and pictures, first in social networks, and later collected in a book juxtaposing text and images. The Travel of a Facebook Worm in Ukraine was published by Дух і Літера in Kyiv at the end of 2014; this year, the book was crowdfunded and released in Moscow.
Victoria Ivleva is one of the few Russians openly and consistently opposed to the government\'s policies. The Birth of Ukraine project manifests the artist\'s personal responsibility and feeling of guilt for what has happened between the neighbouring countries in the past two years. 24 regions of Ukraine, 72 one-and-a-half-metre-long pictures on fabric. This exhibition is a homage to Ukraine, as well as an occasion to discuss the value of life and death, freedom and human\'s destiny in this world.

VICTORIA IVLEVA
Victoria Ivleva is a photographer and journalist. Winner of the World Press Photo Award for her reportage from the inside of the Chernobyl reactor, and the Free Press of Eastern Europe Prize. Ivleva is a two-times nominee for the Sakharov Prize. Her works have been published in most of the world\'s leading media. Victoria is actively involved in volunteering in the South East of Ukraine, helping civilians living in the frontline zone. She also shoots for the Dozhd TV channel.

Opening:
August 18, 2016, 7 PM – 9 PM.
Artist Talk and Exhibition Tour:
August 22, 7 PM

Address:
IZOLYATSIA, 8 Naberezhno-Luhova Street, First Floor.
Exhibition schedule:
August 18 - September 4, 2016, Monday to Sunday, 12 PM - 8 PM.
Media partners