Artist Yana Novotorova in residence at IZOLYATSIA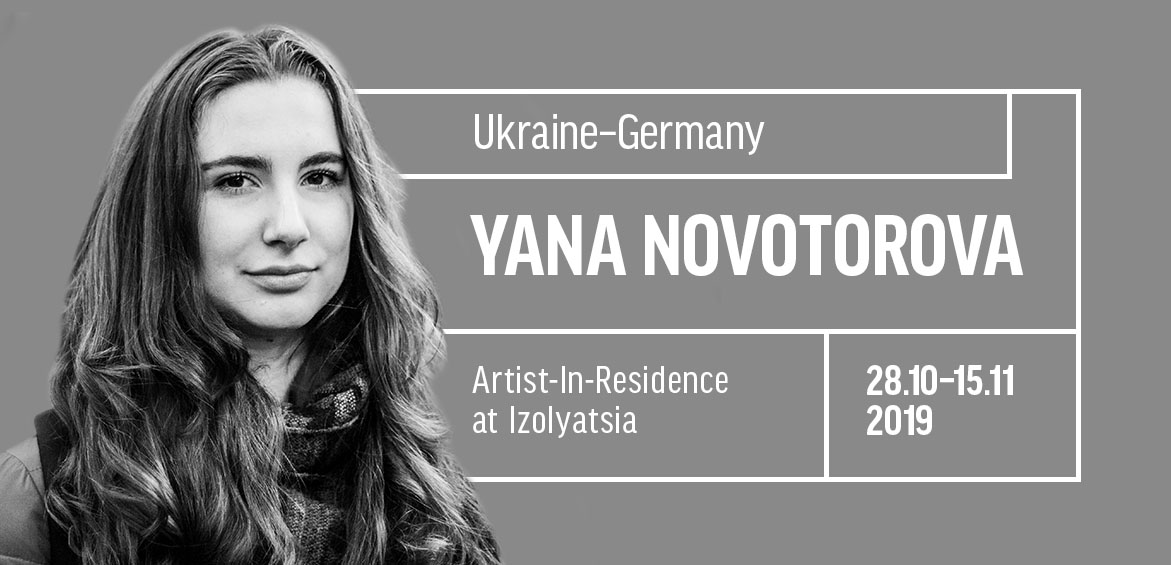 28 October 2019 — 15 November 2019
On October 28 - November 15, 2019, artist Yana Novotorova from Germany with Ukrainian origin is in residence at IZOLYATSIA.
Yana Novotorova is a dancer, performer, dance teacher and creator. Coming originally from Ukraine, where she studied Psychology, English and German, she has been studying and working in Germany since 2013. Yana attained her BA degree in contemporary dance and dance dissemination at the Center for Contemporary Dance in Cologne (HfMT). She is currently pursuing MA degree in Stage Research at Ruhr-University Bochum. Moreover, she is a candidate in the certification process within the Axis Syllabus International Research Community.
As a dancer/performer Yana worked, among others, with Jan Burkhardt and Sigal Zouk, Stefanie Schwimmbeck, Bianca Mendonca, Cie. Willi Dorner, Simone Forti, Susanne Grau, Susanne Helmes, Lili M Rampre, Linda Nadji and Boris Nikitin.
Since 2017 Yana is creating her own work in collaboration with fellow artists. Her research-based, interdisciplinary approach is inspired by various artistic and scientific discourses. She has participated in residency programs at Quartier am Hafen, Tanzhaus NRW and Tanzfaktur Cologne. In 2019 Yana received Tanzrecherche NRW scholarship, as well as support from the Ministry of Culture and Science NRW, which allowed her to further develop her work in collaboration with international partners — IZOLYATSIA (UA) and S'ALA, space for artists (IT).
In collaboration with Sophia Seiss, Anna Lutsenko and Anton Ovchinnikov Yana Novotorova will develop her project Hiding In Plain Sight: Studies On Symbolic Violence during her residency at IZOLYATSIA.
Together with three other colleagues the artist will be researching the phenomenon of symbolic violence in the context of the occupation and military conflict in Ukraine. How does symbolic violence manifest itself during the current crisis? How does it affect the cityscapes it occurs in? How does it affect local population on a structural and personal levels? How can we recognize and resist the workings of symbolic violence? Can art facilitate this process? Addressing these questions, Yana and her colleagues will look for ways of connecting theoretical discourse on symbolic violence with various artistic and performative practices.
On November 13, at 8 pm, Yana and her colleagues will present the results of their research during their performance at IZONE (Naberezhno-Luhova, 8), studio 1, 4th floor.
This residency is made possible by NRW KULTURsekretariat (Germany) and EMERGENCE: Living Heritage / Reframing Memory project.