Double Opening by IZOLYATSIA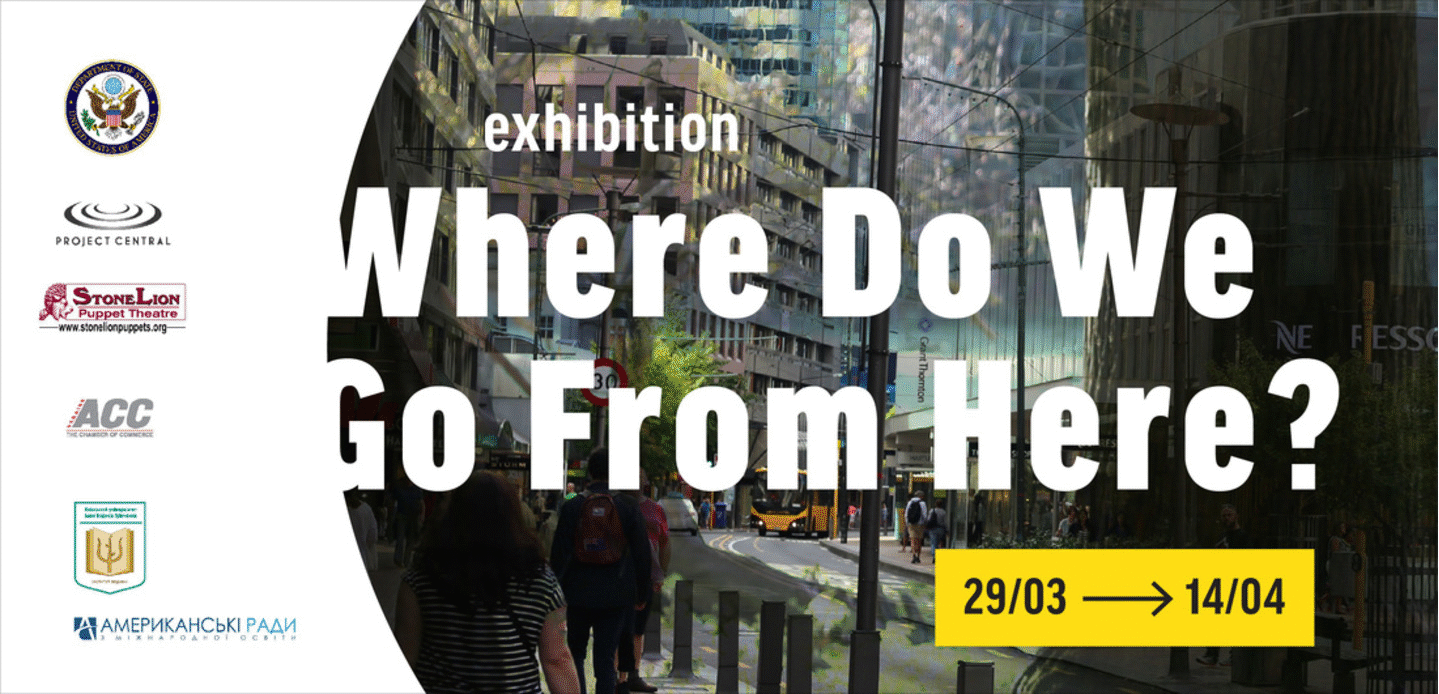 On March 29, 2018, IZOLYATSIA invites to the opening of two exhibitions at the IZONE Creative Community. At 7 PM, the exhibition Where Do We Go From Here? will be unveiled on the second floor, followed by a presentation of the results of the American Arts Incubator in Ukraine project—exhibition Emergent Tributaries—on the fourth floor, at 7:30 PM.
The exhibition Where Do We Go From Here? features works by 26 Ukrainian artists reflecting on the global environmental challenges. These include the human-nature relationships, global and local ecological problems, future visions and effects of the exploitation of natural resources. Applying varied mediums, the artists bring in emotional, critical, futuristic and retrospective takes on aforementioned topics.
The project is supported by the U.S. Embassy in Kyiv, American Councils for International Education, American Chamber of Commerce in Ukraine and carried out in cooperation with the Borys Grinchenko University of Kyiv, StoneLion Puppet Theatre and Project Central (USA).
Curator:
Kateryna Filyuk
Artists:
Viktor Arefiev, Mykhailo Barabash, Oleksiy Berezovsky, Tetyana Borychok and gypsyPetya, Oksana Chepelyk, Kseniya Hnylytska, Hryhorii Hudachenko, Borys Kashapov, Alina Khorolska, Andriy Koskovtsev, Krolikowski Art, Olga Kukush, Pavlo Lysyi, Alina Lytvynenko, Yuliya Makliuk, Alina Maksymenko, Oleksandr McQuartz, Maria Proshkovska and Andriy Lyubov, Maria Rakhimova, Yevhen Samborsky and Vitalii Kovalenko, Alyona Shibunova, Marina Shkarupa, Vitaliy Shuplyak, Volodymyr Shypotylnikov, Bohdan Tomashevsky, Iryna Zamuruyeva.
The exhibition Emergent Tributaries is the culmination of the project American Arts Incubator in Ukraine which spanned the month of March and was led by visiting new media artist Tiare Ribeaux. This new media exhibition will showcase 5 collaborative projects from 32 artists from Ukraine. These works use speculative design and design fiction to reimagine future architectures, artifacts, and networked ecologies in Ukraine and along the Dnipro river. They all look towards Ukrainian cultural identity and heritage to inform their works, and include digital renders, 3D prints, textiles, video, and projections.
American Arts Incubator is an international cultural exchange initiative of the U.S. Department of State's Bureau of Educational and Cultural Affairs that is administered by ZERO1.
Curator:
Tiare Ribeaux
Participants:
Vitaliy Agapeyev, Julia Beliaeva, Ivanka Borodina, Alina Borysova, Oksana Chepelyk, Yurii Efranov, Umka Estebanovna, Iren Proskurina, Anna Kakhiani, Alena Klochko, Irina Kostyshina, Krolikowski Art Duo, Nastya Loyko, Ann Manankina, Alyona Mamay, Oleksandr Manukians, Bogdan Moroz, Maria Proshkowska, Bogdan Seredyak, Hanna Shumska, Ekateryna Shiman, Olya Vashchevska, Alla Sorochan, Olga Synyakevych, Olga Tereshchenko, Anna Korniets, Oleg Suslenko, Serhii Nezhinsky, Yaroslav Kostenko, Michael Rozanov, Oleksiy Yalovega, Krolikowski Art and Tiare Ribeaux.
The IZONE Creative Community is located at vul. Naberezhno-Luhova 8.
Published:
28 March 2018, 19:23