TO RESIDENCY: a guide to DIY your own art/urbanism residency in post-industrial cities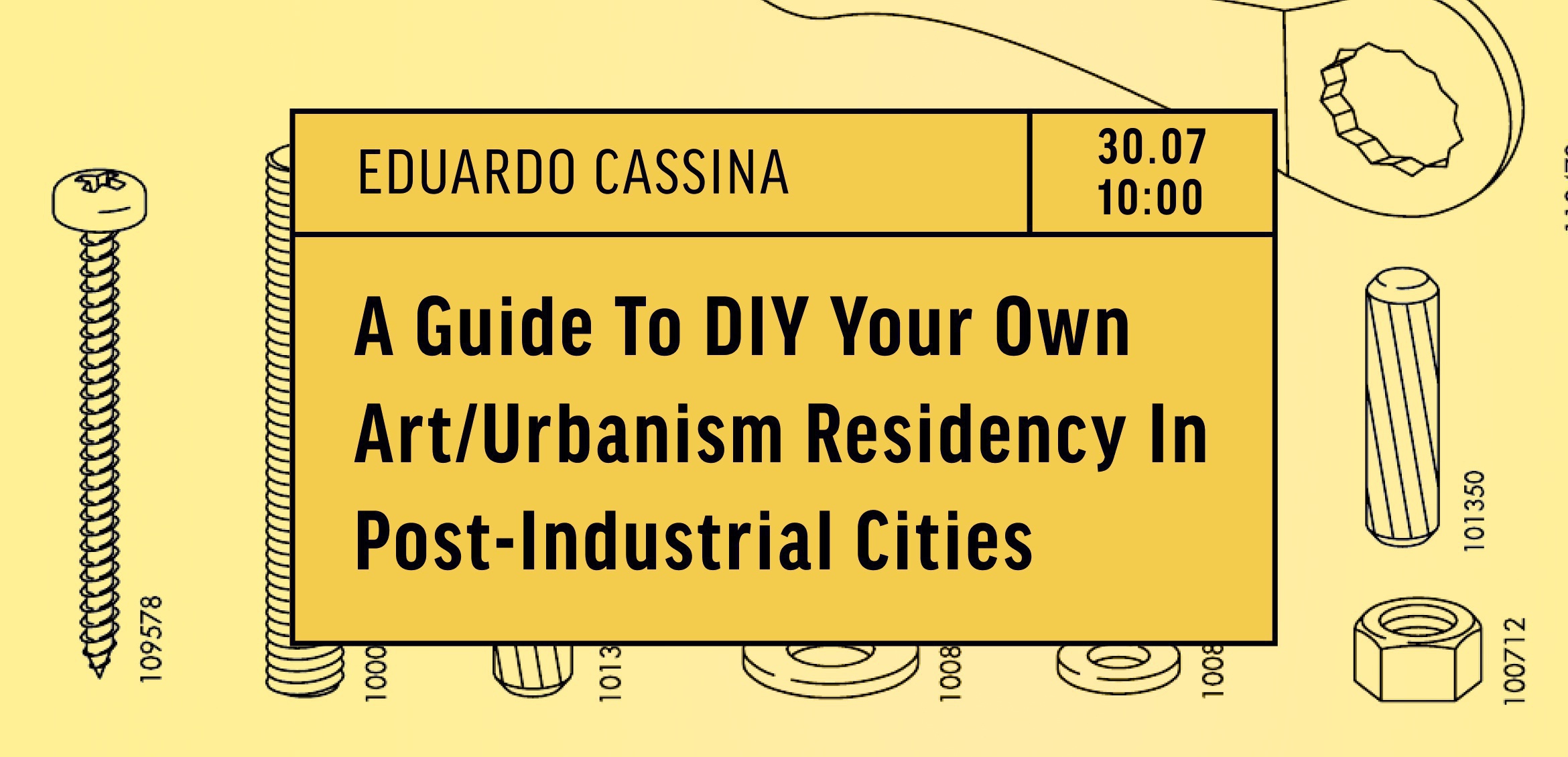 22 July 2021 — 31 July 2021
On the 30th of July 2021, Eduardo Cassina will give an online workshop 'TO RESIDENCY': a guide to DIY your own art/urbanism residency in post-industrial cities. In this five-hour long workshop, we will reflect on art and urbanism residencies as powerful political tools to generate alternative discourses in post-industrial cities. We will have a step-by-step route map on how to create your own residency, from where to obtain funding, spatial requirements, and team roles. We will discuss the benefits of creating residencies, dissemination strategies, and the value that these initiatives can bring.
This workshop is aimed at DIY urban grassroots activists and organizations working in post-industrial centers. Everybody is welcome.
The workshop will take place in English.
Time: 30th July / 10 am - 3pm (UA).
---
Eduardo Cassina — researcher. His interests lie in establishing non-hierarchical symbiotic formats of knowledge exchange, intentional communities and other forms of human gatherings, spatial theory, pushing the architectural boundaries of domestic spaces, and gongs.
After graduating from the Mahindra United World College of India, Eduardo Cassina, went on to be trained as an architect and urban sociologist in Glasgow, Porto, Amsterdam, Beijing, London, and Cape Town.
He has worked as a researcher, and exhibition designer for the Guggenheim museums in Venice and New York, as well as for the Netherlands Architecture Institute (NAi), Rotterdam. In 2014 he co-founded METASITU, an urban collective based in Kyiv devoted to the exploration of new spatial pedagogies, particularly around bottom-up forms of Master planning for post-industrial shrinking cities through their initiative, The Degrowth Institute. In 2015 he curated the learning program workshops at CANactions (Kyiv) and the Urban Residence as part of the festival 86. Also he was participant of the IZOLYATSIA Architecture Ukraine residence.
He is an adjunct professor of architecture and Year 2 Coordinator at INDA, Chulalongkorn University (Bangkok), and he co-runs an experimental urbanism & architecture space devoted to non-hierarchical learning, Monitor Lizard, in Bangkok. He has lectured at the Architectural Association (London), as well as served as guest critic at the Bartlett School of Architecture (London).
Currently, he is leading a three-month workshop/encounter with art residency spaces in Latin America organized by Nave (Santiago), as well as organizing SESAM2021, an event that will bring 250 architecture students and recent graduates from all over the world to Slavutych, the city that was built to rehouse those evacuated from Pripyat, following the explosion of the fourth reactor of Chernobyl Nuclear Power Plant in 1986.