Reconstructing Ukraine: Hope, perspective and challenges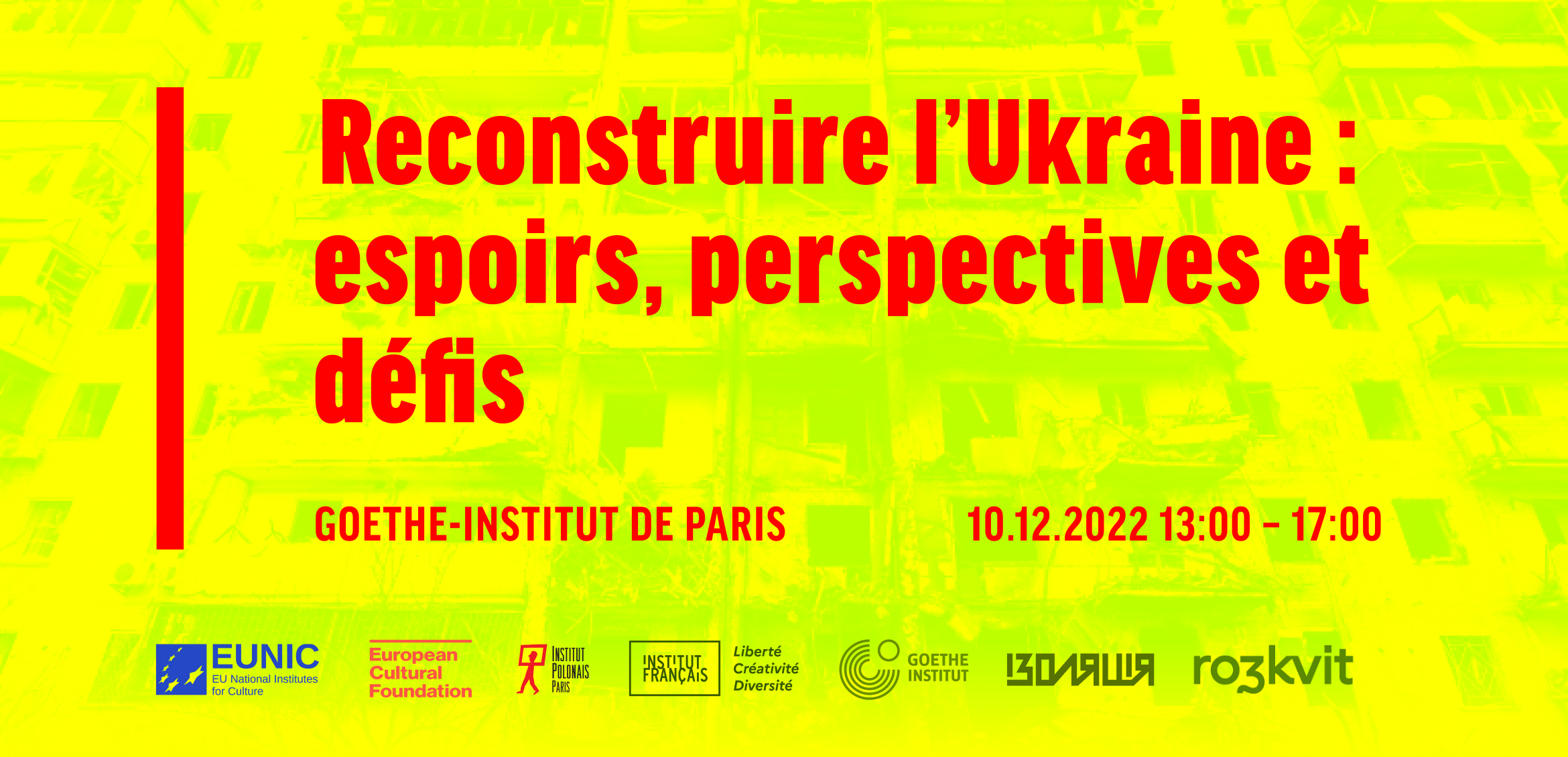 10 December 2022
After nine months of full-scale war, life in Ukrainian cities has changed radically. Constant attacks on critical infrastructure, leaving entire towns in darkness, people are learning to live in the new reality, adapting to frequent electricity, water and heating cuts.
Many communities are completely destroyed and wiped off the face of the earth. Mariupol, Soledar, Bakhmut, Kharkiv, Mykolaiv and dozens of other towns have suffered and continue to suffer from daily bombing and shelling.
The war will significantly change the attitude of Ukrainians towards the body of cities and public spaces. Civil society actively enaged into development of shelters, new housing for displaced people, turning cultural centers into humanitarian hubs, developing new forms of relationships with local authorities, making new plans for Ukraine after the war.
The round table and public programme on 10 December at the Goethe-Institut Paris aims to discuss the reconstruction of Ukrainian cities after the war.
Urbanists, architects and experts from different countries will talk about rebuilding cities, rethinking public spaces and a new post-war urbanism.
Starts at 13:00.
The event is organized by the members of the EUNIC-Cluster Paris - Goethe-Institut, Institut français and Institut polonais in partnership with Ro3kvit and IZOLYATSIA.
This project was made possible with a grant from the Culture of Solidarity-EUNIC Ukraine Fund, in partnership with the European Cultural Foundation and EUNIC with core financing led by the Goethe-Institut and additional funding by the Institut français and Instituto Cervantes.
Project manager Kseniya Ulyanova.
Free admission.
Photo by: Cyrille Clément
Moderator
BLOCK 1 – Urgent housing and Architecture
BLOCK 2 – Environment, education and culture
BLOCK 3 – Challenges in Eastern Ukraine