Artist Mathilde Fages in residence at IZOLYATSIA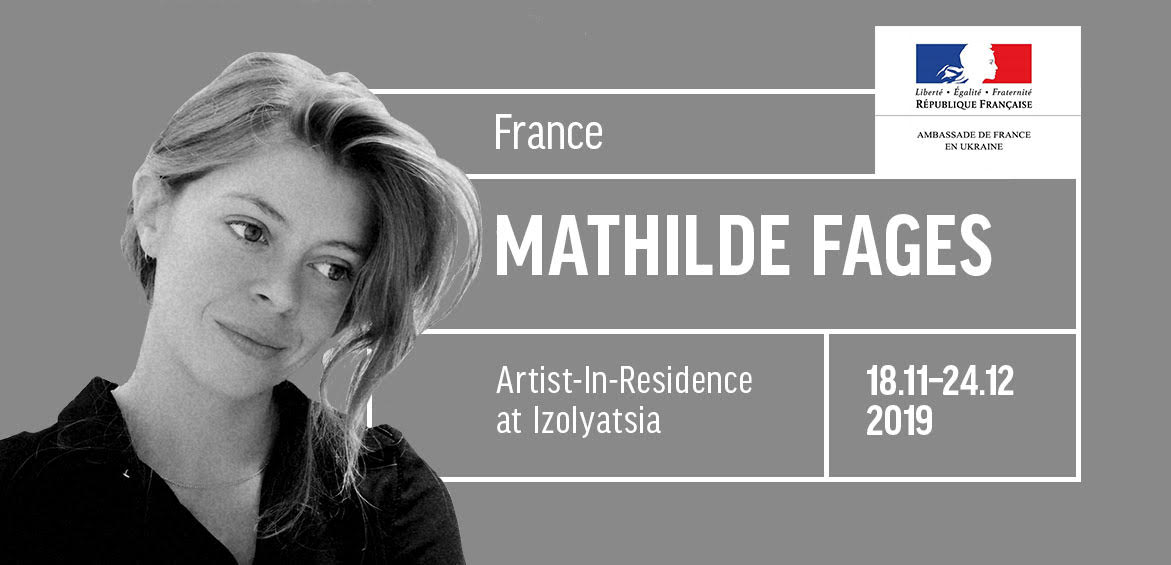 18 November 2019 — 24 December 2019
On November 18 – December 24, 2019, French artist Mathilde Fages will become a participant of IZOLYATSIA resident program.
Mathilde Fages is an artist who works with different graphic techniques and installations. She lives and works in Marseille, however her artistic geography is very wide: her works were presented as part of group and personal exhibitions in France, Switzerland, Germany, Island, Georgia and India.
At first Mathilde was studying literature in Montpellier, in 2010 she graduated from Ecole Nationale Supérieure d'Art de la Villa Arson in Nice. Since then, she took part in many art residences, in particular Sim House in Iceland (2011), FMC in Belgium (2011), Villa Garikula in Georgia (2013), Fugitif in Germany (2015), Clark House in India (2018), was an exchange student in Academy of Fine Arts in Iceland, and learned how to work with wood in educational center AFPA in Marseille in 2016.
Mathilde works with different disciplines of visual art. The main theme of her works is landscape and its reflections, transformed with different traditional and innovative techniques like layering, shifting, diversion and blurring. Mathilde explores movement, shadows and imperceptible vanishing, as if she is trying to see death and its ghostly persistence.
The atypia of her images is exciting, it's caused by their hypnotic nature, because a new image — image of an artist — cannot be born in a simple process, restricted with photo prints, even full of inspiration. Style becomes more personal and real, therefore more perfect, if it consists of imperfections, like dust on a vinyl changes its sound and adds charm to it. Therefore, the artist works with relief printing, lithography or stencil prints, or seeks for expression in volume, able to embrace the feelings hanging on the contour of the Universe.
During the residence Mathilde Fages together with Juliette Déjoué will explore Ukrainian space, its peculiarities and transform it into artforms.
As part of her residency, in April 2020, Mathilde Fages will host artist-talk at IZONE Creative Community. During the lecture she will talk about residency experience and her own artistic practice with her colleague and IZOLYATSIA's resident Juliette Dezhue.
The residence of Mathilde Fages is made possible thanks to the support of French Institute in Kyiv.