Artist and photographer Masha Wysocka in residence at IZOLYATSIA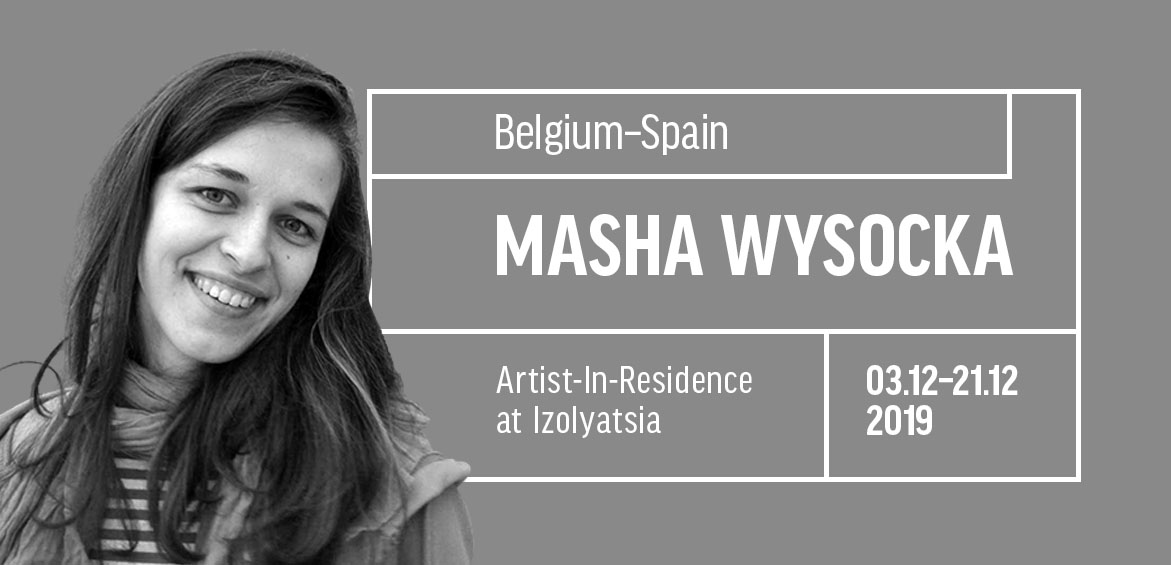 3 December 2019 — 21 December 2019
From December 3 to December 21, 2019, Belgian-Spanish photographer Masha Wysocka will be a new resident at IZOLYATSIA.
Masha Wysocka is a Belgian-Spanish visual artist who lives between Brussels and Barcelona. She graduated with an MA in Photojournalism and Documentary Photography at the London College of Communication, University of the Arts London. In addition, she has an BA in Sociology from Université Strasbourg-II and an MA in Political science from Institut d'Études Politiques de Strasbourg. She is currently pursuing the International Sputnik Photos Mentoring Programme in Warsaw.
In her practice, she is interested in working at the intersection of different disciplines: history, literature, sociology, philosophy, political science, mathematics. Her documentary projects are rooted in her academic background. Being a sociologist and political scholar, she is keen to look at historical events or social phenomena and question them from an individual perspective rather than a collective one. Therefore, she considers photography is the best creative tool because it offers an individual point of view.
During her residence at IZOLYATSIA, she is interested in exploring how contemporary narratives regarding identity, citizenship or "Heimat" could be told in photography. She is eager to tell stories of Polish descents who live in today's Ukraine. Moreover, she will organize a collaborative studio where Ukrainian participants will be given the opportunity to create their own portraits.
On December 20th, Maria will hold an Artist Talk at IZONE Creative Community. At the event she will tell about her artistic practice, as well as share the results of her projects that she has been working on during her residency at IZOLYATSIA.

The residence of Masha Wysocka is made possible thanks to the Step Travel Grant, an initiative by the European Cultural Foundation with the support of Compagnia di San Paolo.