Kolektiv: Concert of Experimental Electronic Music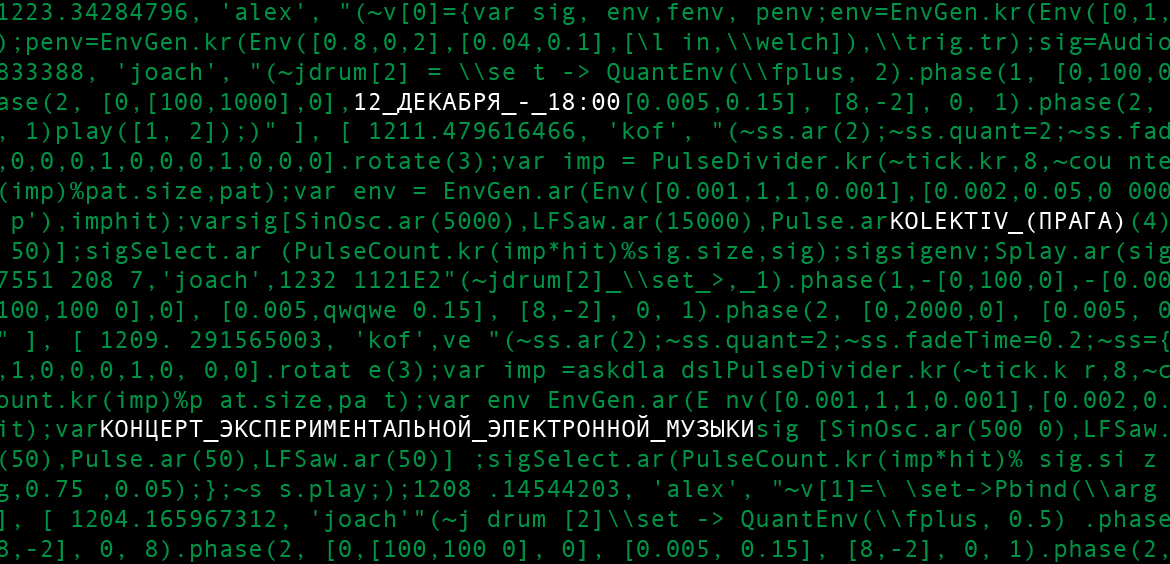 12 December 2015
On December 12, IZOLYATSIA will host a concert of experimental music by Czech ensemble Kolektiv. At noon, Kryštof Pešek, Jiří Rouš and Katarína Gatialová will carry out a workshop on creating audio-visual compositions, and at 6 pm, a concert will be held on the first floor of IZONE creative community, during which the musicians will be constructing music and images in real time, programming them on computers.
Kolektiv is an international open group of artists working in the realm of algorithmic visuals and electronic music who follow in the tradition of live coding, an art form based on the artist writing a code for their performance in real time, creating instruments generating sound or image right in front of the audience. The occasional members of the group are Michal Cáb, GND, Kryštof Pešek, Jáchym Pešek, Jiří Rouš, Georgij Bagdasarov, Sara Pinheiro, Martin Blažíček, Petr Zábrodský, Alexandra Timpau, Jonáš Svatoš, Katarína Gatialová, Alexandra M. Cihanská.
Katarína Gatialová is a curator, artist and graphic designer. She works as a curator at Nova Synagoga centre in Žilina, Slovakia, as well as the Art Museum of Olomouc and many other international projects in Europe. As an artist, she works with sound, software-defined radio and self-made machines, computers and other devices.
Supported by

​

Photo archive
Video archive