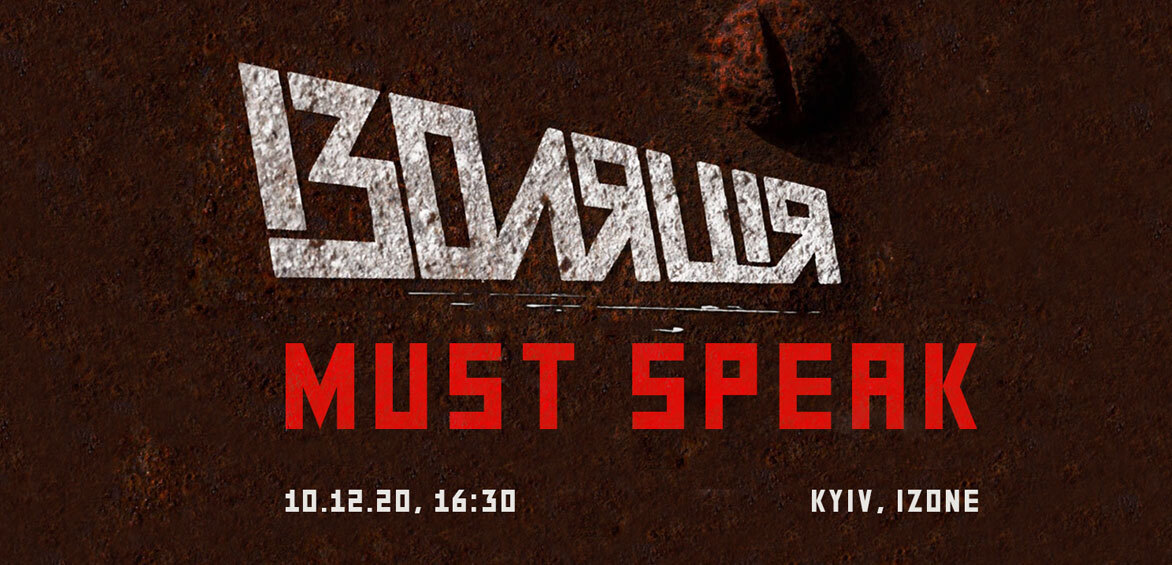 10 December 2020 — 31 December 2020
On 10 December 2020 at 4.30 pm, the Ministry of Foreign Affairs of Ukraine, the Ukrainian Institute, IZOLYATSIA foundation and Stanislav Aseyev, a journalist, writer and former political prisoner, will hold a presentation of the art project IZOLYATSIA: Must Speak.
This project will kick off a broad information campaign on rising international awareness of Russia's illegal activities in the temporarily occupied territories of Ukraine. Presentation will take place on the International Human Rights Day in order to draw the international community's attention to the facts of tortures and inhuman activities in the IZOLYATSIA prison with an ultimate goal of shutting down this illegal facility.
In 2014 the occupation authorities of the Russian Federation turned a well-known art space called IZOLYATSIA in Donetsk into infamous illegal prison. There were more than 100 prisoners in this illegal facility in 2014, and up to 70 prisoners in 2019. According to the Office of the UN High Commissioner for Human Rights reports on the human rights situation in Ukraine, IZOLYATSIA prisoners are tortured and exposed to sexual violence.
The presentation will be attended by Emine Dzhaparopva, the First deputy Minister for Foreign Affairs of Ukraine, Oleksiy Reznikov, the Deputy Prime Minister of Ukraine, Minister for Reintegration of the Temporarily Occupied Territories of Ukraine, Oksana Sarzhevska-Kravchenko, the Director of the International Foundation IZOLYATSIA, Oleksandra Matviychuk, the Head of the Center for Civil Liberties, as well as Stanislav Aseyev, who will present his book The Bright Path. History of One Concentration Camp. The discussion will be moderated by Tetyana Filevska, the Creative Director of the Ukrainian Institute.
The event will be held in online format. Short presentations by the speakers will be followed by the interactive discussion. The offline part of the event will take place at the creative community IZONE (address: 8 Naberezhno-Lugova St., Kyiv) in compliance with sanitary norms and regulations.
Representatives of the diplomatic corps, non-governmental organizations, media, and human rights activists are invited to participate in the online format.
Live-stream of the event in English and Ukrainian will be available on Facebook pages of the Ukrainian Institute, MFA of Ukraine and the ICF IZOLYATSIA.
Accreditation for media is available on the following link and is open until 6.00 pm on 9 December 2020. Confirmations and a link for participation will be sent shortly after closing of the accreditation.