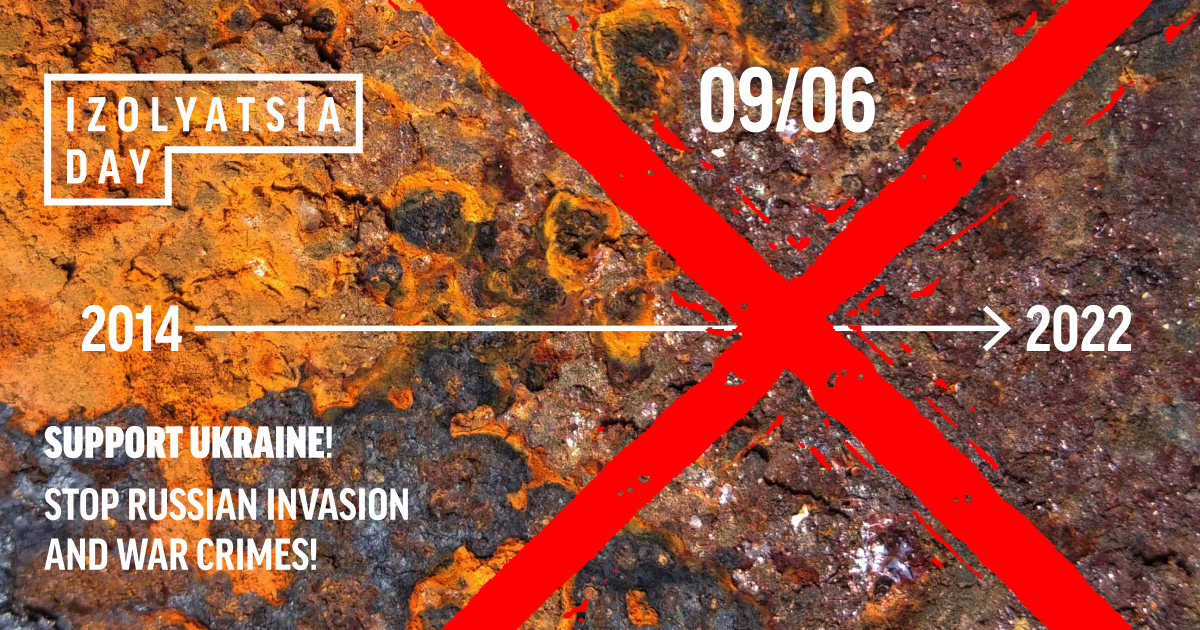 9 June 2022 — 12 June 2022
On June 9, 2014, the territory of the IZOLYATSIA Foundation in Donetsk was seized by representatives of the russian terrorist organization DNR. For the past eight years, exhibition halls, a library, a cinema, artists' workshops, a fablab, and endless factory facilities have been used as illegal prisons, places of torture, forced labor, and murder. According to human rights activists and the UN High Commissioner for Human Rights, military and civilian, they went through this torture chamber.
The IZOLYATSIA Foundation, together with partners from human rights organizations, the Ministry of Foreign Affairs of Ukraine, cultural institutions and the media, has constantly called on the international community to do everything possible to end illegal prisons in Donetsk, Luhansk and Crimea, systematically violate human rights in the occupied territories of Ukraine and holding Ukrainian citizens' hostage.
With the beginning of the full-scale invasion of the Russian Federation into Ukraine, the horrors and crimes committed by the russians in Donetsk, Luhansk and Crimea have multiplied and spread along with the spread of russian occupation.
Following the example of the illegal prison Izolyatsia, Russia has set up many filtration camps in various cities of Donetsk, Luhansk, Kherson, Zaporizhia regions of Ukraine, as well as in Russia.
In these filtration camps, russians interrogate Ukrainians trying to escape from occupied cities. Interrogations are carried out using torture, brutal beatings, and checking personal phones, messages, and photos on social networks.
Those who do not pass the inspection are kept in inhumane conditions in these camps indefinitely, without contact with their relatives. Some detainees are missing.
There are at least 3,000 civilian detainees in the Bezimenne and Kozatske filtration camps alone.
In addition to keeping people in filtration camps, the Russian Federation also forcibly deported Ukrainian citizens to Russia (currently 13,779,225 people, including 232,480 children, were deported), committed war crimes, and destroyed cultural heritage. As of April 23, 2022, the Ministry of Culture and Information Policy has documented 242 episodes of russian war crimes against cultural heritage in Ukraine committed after February 24.
In 2021, the IZOLYATSIA Foundation celebrated the 7th anniversary of the capture of its territory by opening a main office in Soledar, Donetsk region. This gesture brought the foundation back to the Donetsk region and was to focus the organization's attention on working in small communities in eastern Ukraine. Instead, the city of Soledar is now being wiped off the face of the earth by russian artillery, missiles, and aerial bombs.
Celebrating Ukrainian culture and identity and emphasizing the importance of independent institutions remains a priority despite the active phase of the war.
The international community must step up its support for Ukraine during the Russian aggression, help end the occupation of Ukrainian territory and human rights violations, release Ukrainian hostages and close all illegal prisons.
The Torture Camp on Paradise Street – watch the documentary about illegal prison Izolyatsia
Isolation: Voices from the Basement – report on torture in the occupied Donbass
Photo: Avinash Kumar