Instruments of Influence Media Camp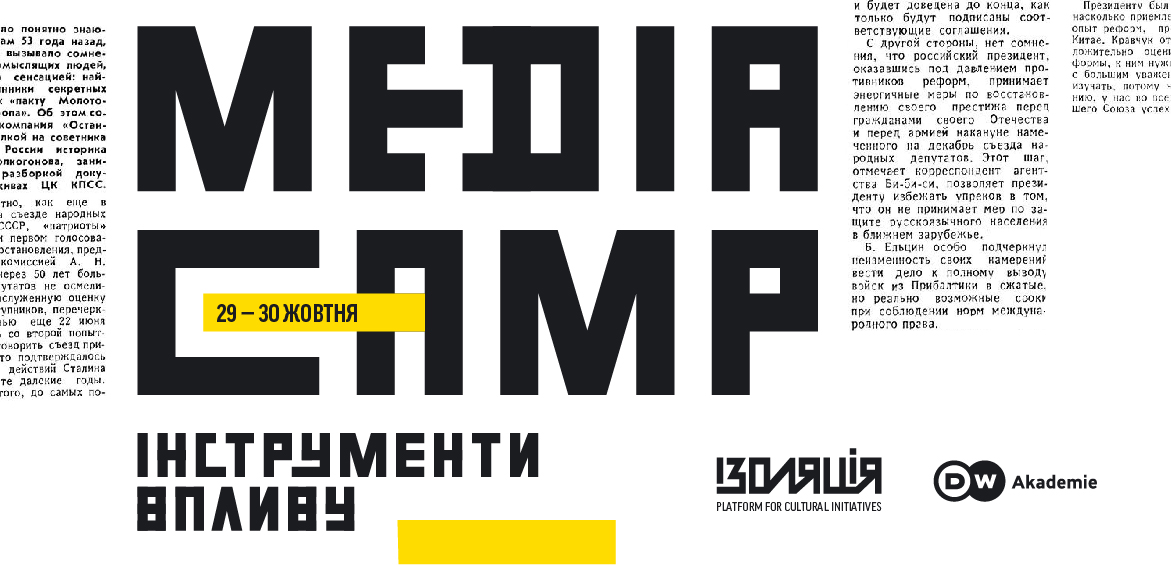 6 October 2016
On October 29-30, 2016, IZOLYATSIA presents the Instruments of Influence media camp, supported by Deutsche Welle Akademie. For two days, from 10 AM to 7 PM, the IZONE Creative Community will host presentations, lectures, discussions, and workshops in the fields of citizen journalism, social and cultural activism, documentary photography, and arts.
From April to September 2016, IZOLYATSIA and Deutsche Welle Akademie have held a series of trainings for citizen journalists in Mariupol, involving professional trainers from Europe. The media camp summarises the results of the trainings, inviting ten Ukrainian participants to present their work in Kyiv. Moreover, the event will feature a cohort of Ukrainian professionals – journalists, cultural managers, photographers, and artists – who will present successful cases and discuss various ways of influencing the authorities and society on the way to social and cultural change.
Following topics will be discussed at the Instruments of Influence media camp:
- Communication between social/cultural activists and authorities and professional media
- Role of journalists in promoting social and cultural initiatives
- Culture as an instrument of influence
- Journalism ethics and standards, fact checking
- Photojournalism and documentary photography
The media camp is designed for citizen and professional journalists, social and cultural activists and managers, as well as all social-minded creatives interested in direct action. It is a platform for exchanging ideas and expertise, based on successful cases, finding like-minded people, and acquiring new knowledge and experience.
The roster of speakers will be announced shortly. Those willing to present their cases are welcome to join the event. To become a speaker, please contact us at [email protected].
The Instruments of Influence media camp will be held at 8 Naberezhno-Luhova Street.
Free entrance.

Supported by

Media partners

​