Artist Heather Beardsley in residence at IZOLYATSIA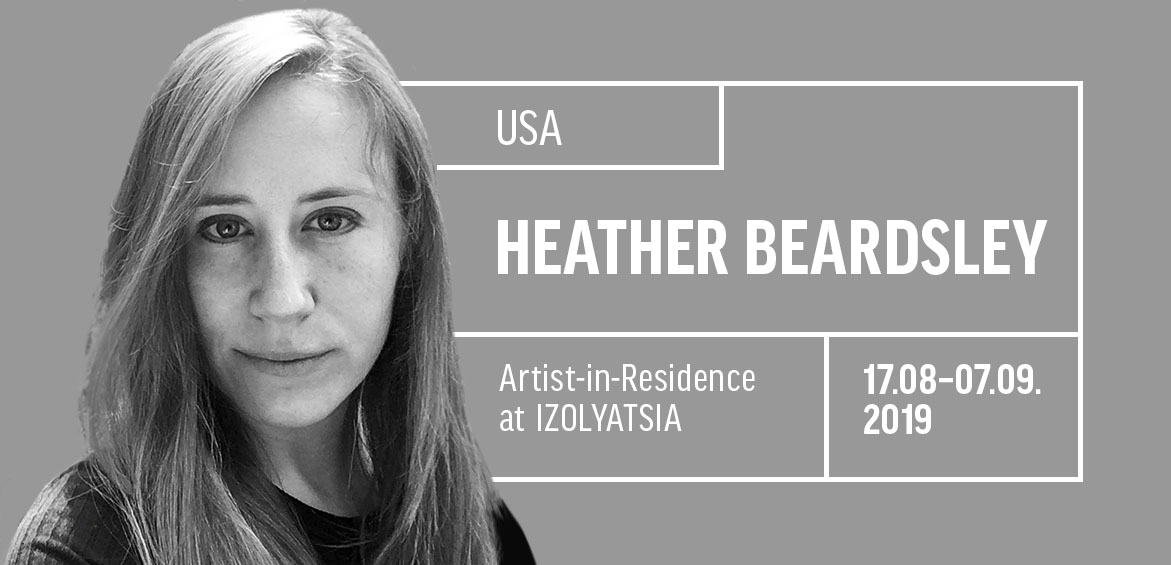 5 August 2019 — 7 September 2019
On August 17 — September 7, 2019, the US-based artist Heather Beardsley is a new resident at IZOLYATSIA.
Heather Beardsley is an American visual artist that works with various media, using the aesthetics of science to play with semiotics and visual hierarchies.
She received her MFA in Fiber and Material Studies from the School of the Art Institute of Chicago and earned a BA in Studio Art from the University of Virginia in 2009. After graduating, she spent the 2015–2016 academic year in Vienna, Austria on a Fulbright Scholarship for Installation Art. In 2016 she was awarded a twelve month International Artist Scholarship by the Ministry of Science and Culture for Lower Saxony, Germany.
Recently she has had solo exhibitions at the Staatliches Naturhistorisches Museum Braunschweig, Germany, Museumsquartier in Vienna, Austria and St. Joseph's University in Philadelphia, USA. She has been awarded residencies at bartr, in Budapest, Hungary, KulturKontakt in Vienna, Austria, the Shangyuan Art Museum in Beijing, China and Rogers Art Loft in Las Vegas, Nevada.
Recent group exhibitions include Fake at Science Gallery, Dublin, Off the Wall at the Spartanburg Art Museum, New Waves 2019 at the Virginia Museum of Contemporary Art and Depth at Science Gallery Detroit in 2019.
Heather explores the topics of nature, environment and human societies, their interaction and symbolism.
More information about her works you can find on her website: https://www.heatherbeardsley.com/
August 22, at 7 PM, Heather Beardsley will hold an artist talk at IZONE (Naberezhno-Luhova, 8)
Heather Beardsley's residency at IZOLYATSIA is made possible thanks to the support of the U.S. Embassy in Kyiv.