Artist Eleonora Quadri is in residence at IZOLYATSIA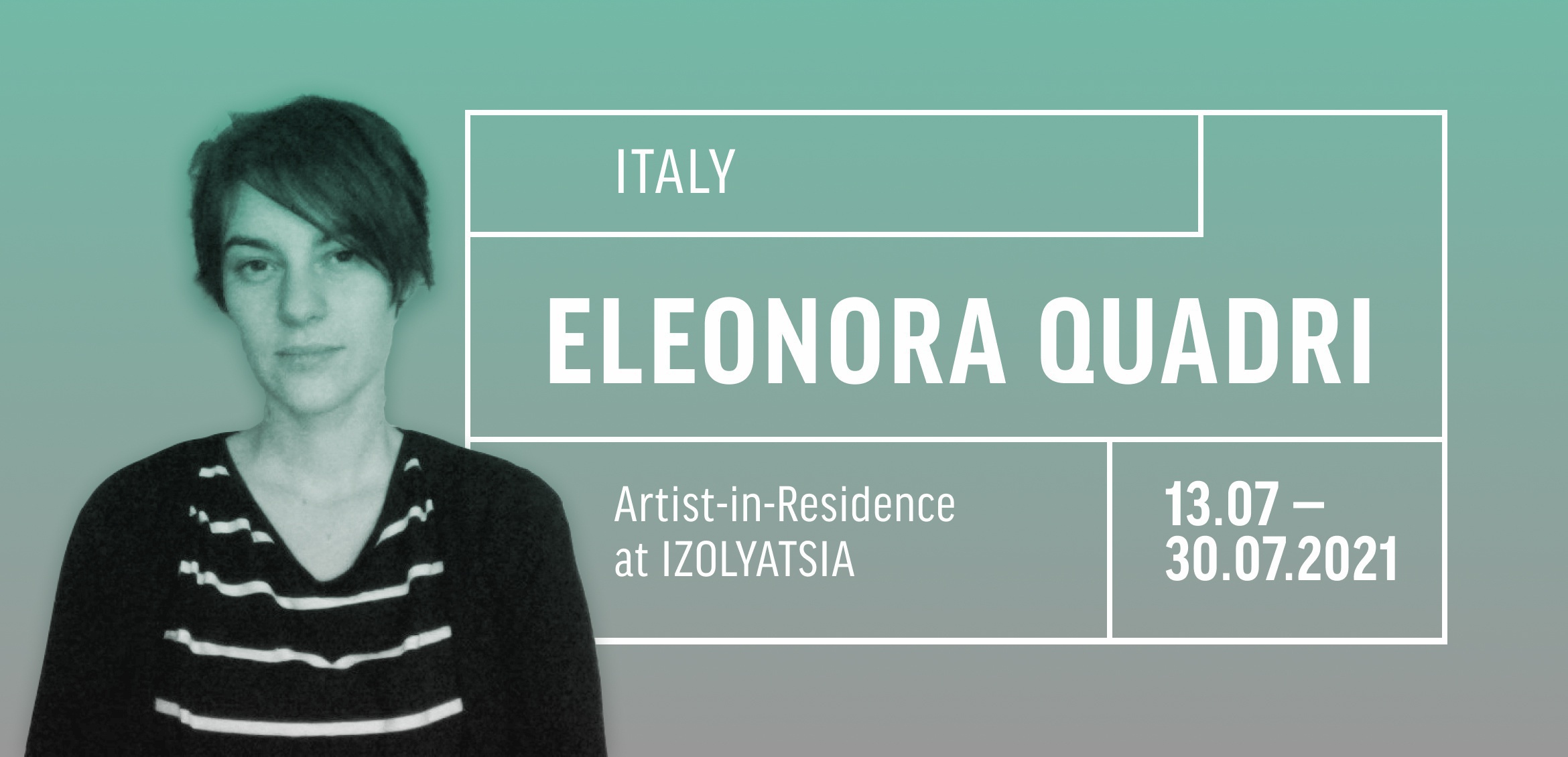 13 July 2021 — 30 July 2021
July 13 — July 30, 2021, artist Eleonora Quadri is in residence at IZOLYATSIA.
Eleonora Quadri is an italian visual artist with a background in history of art, photography and visual culture.
Her practice is based on a deep theoretical and historical research: her works start from key elements, either narrative or historical, and evolve into the exploration of geographical, urban or social places, how they conserve their memory, or fail to, and how they can work as connectors of personal stories into a collective dimension. She works with narrative methods at the intersection of different languages: photography, video, writing, archive material.
During her residence at IZOLYATSIA, she works on Corrispondenze, a project started a year ago, and focused on gentrification processes in Europeans cities, their impact on the life and body of individuals, and the increasing inequality and marginalisation they produce. After a period in Lisbon, where she explored the east periphery of the portuguese capital, Eleonora Quadri will look at Kyiv from a historic and urbanistic perspective, interrogating the actual neoliberal privatisation and commercialisation of the urban space. In order to share her practice and to have the chance to see Kiev from the point of view of someone living in the city, she will organize a moment of open discussion about Kiyv's gentrification, where participants can share a personal place / story / memory that could work for the artist as a lens to look at a specific urban area from a personal perspective.
She earned a BA in Literature and she graduated with an MA in Contemporary Visual Art at the University of Bologna. She then joined the two-year Master's in Advanced Studies in Contemporary Images at Fondazione Modena Arti Visive. She currently collaborates with the photoarchive of the Institute for the research of the History of Resistance and Contemporary Age based in Bergamo. Since 2016 she has been holding a course at the art school of Fondazione Modena Arti Visive, and she teaches History of art in high school. Eleonora Quadri's work has been shown in several institutions, as MAXXI B.A.S.E in Rome; Palazzo Lucarini of contemporary art in Trevi; Fondazione Modena Arti Visive; Triennale Milano; Italienisches Kulturinstitut, Berlin; MAD Florence. In 2020 she won the Movin'up prize to support two periods of research in Lisbon at HANGAR_CIA and in Kyiv at IZOLYATSIA; and she was a finalist of Francesco Fabbri Prize for the Contemporary Arts. Since 2013 she has been engaged in various residencies and art projects: 'Stills' AiR residency programme' in Edinburgh; documentary project Ludrimi promoted by MOXA and Marubi film Academy, Tirana; 'Colonos Artist Residency'; 'Matrimonio all'italiana' curated by Elisa del Prete and Homemovies. In 2015 thanks to the Gajani Foundation Prize she spent a two months period of research through Albania. In 2012 she worked in the art project 'All in good time' curated by Stefano Raimondi e Mauro Zanchi.
The Residence is made possible thanks to MOVIN'UP SPETTACOLO – PERFORMING ARTS 2020 promoted by MIBACT Ministry of Cultural Heritage and Activities and Tourism – General Directorate for Performing Arts and GAI Association for the Circuit of the Young Italian Artists together with TPP Puglia Public Theater – Apulia Region and GA/ER Association Young Italian Artists of Emilia-Romagna.
A workshop with Eleonora Quadri took place on July 21 at 19:00 in the IZONE creative community. The event will also be broadcast online on the IZOLYATSIA Facebook page. Platform for Cultural Initiatives. The event will be held in English.