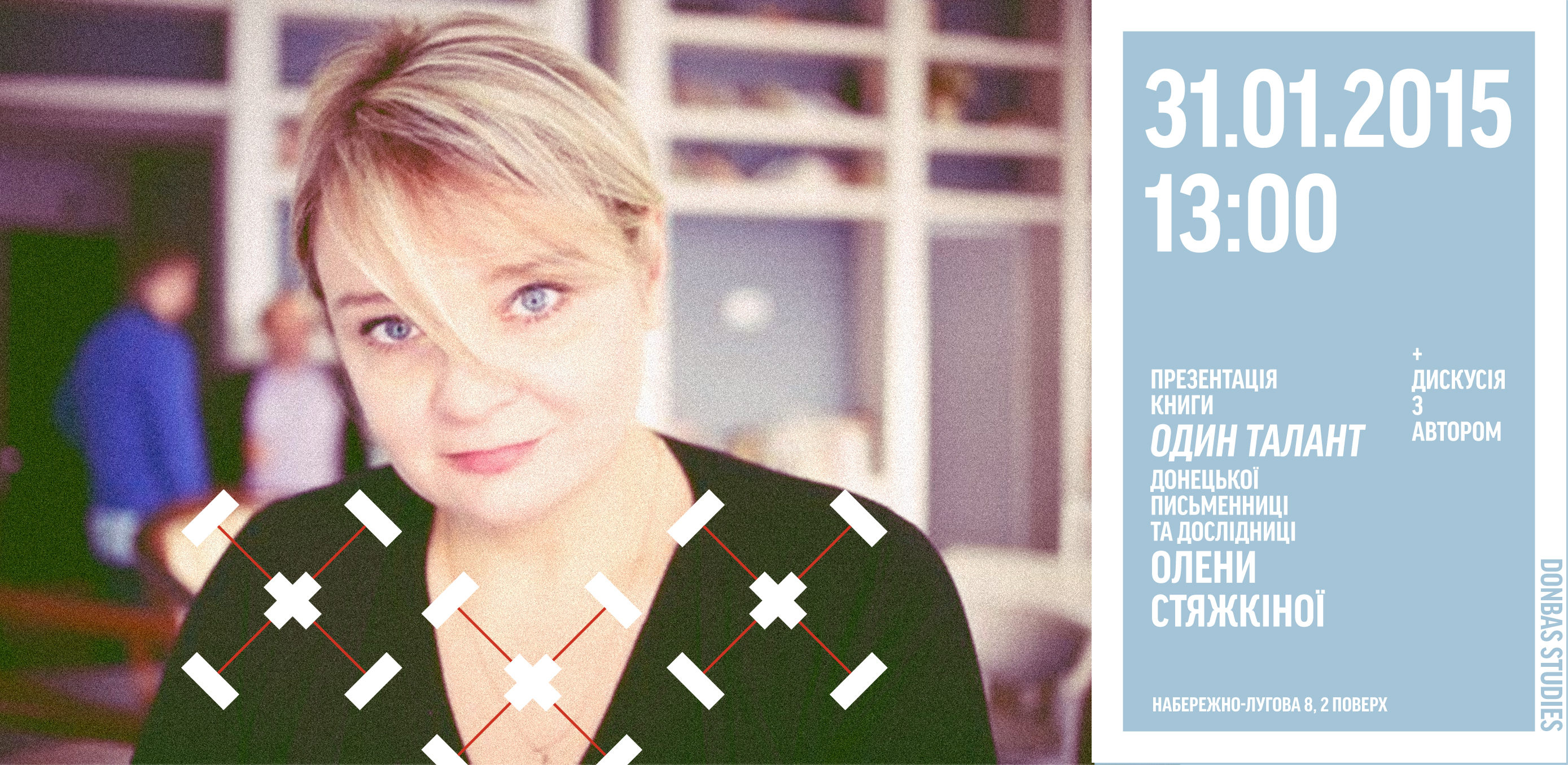 On January 31, 13:00 IZOLYATSIA foundation, as part of its project Donbas Studies, hosts a presentation of a novel by a Donetsk researcher and writer, Elena Styazhkina — A Single Talent.

The stories included in the novel are examples of psychological prose, the heroes of which are endowed with a talent that is shared by all of them. In Styazhkina's words, this talent is the ability to love people, on whom the sun rarely shines, and to love a homeland, which is more like an unruly child. The talent is not in being a man or a woman, but to live regardless; not to make a tragedy out of old age, loneliness, love or lack of love. The author sincerely loves her heroes and does not judge them.

The book consists of stories about ordinary people. The book's final chapter is dedicated to the heroes of Euromaidan.

In Spring 2014 the author received the Russian Prize for this book, which is awarded to outstanding Russian-language writers, who do not reside in the Russian Federation. Styazhkina's acceptance speech during the award ceremony caused a significant reaction. Since then, the author has not visited Moscow, where the book was initially published, and has not yet seen the published book. IZOLYATSIA acquired the novels for its Donbas Studies Library and is now arranging a meeting between the writer and the book.

Elena Styazhkina is a Ukrainian writer, journalist, historian, and a professor of Slavic history at Donetsk National University. In 2010 she wrote her debut novel – Buy Bubliki, and won a literary prize for the book in the nomination of Best social psychological novel (2010). Styazhkina is a finalist of the I.P. Belkin Prize (2012), and was nominated for the Teacher's Belkin prize (2012).

Academic publications:

- Cultural processes in Donbas in 1960s – beginning of 90s. Dissertation, PhD history candidate: 07.00.01 Donets, 1996

- Women in the history of Ukrainian culture in the second half of the XX century: Dissertation, PhD in history: 07.00.01 Donetsk, 2003. 498 p.

- A human being in the soviet province: (un)learning language. – Donetsk: Noulidzh, Donetsk division, 2013. - 295 p.

During the presentation the author will read selected excerpts from A Single Talent. In addition, a discussion is planned on the topic of "a woman's letter", "a woman's story", and the experience of war.

The presentation will take place at: Naberezhno-Luhova, 8. 2nd floor.

| | |
| --- | --- |
| Медіа-партнер: | Партнер Донбаських Студій: |