CO-HATY: Participatory planning of the collective center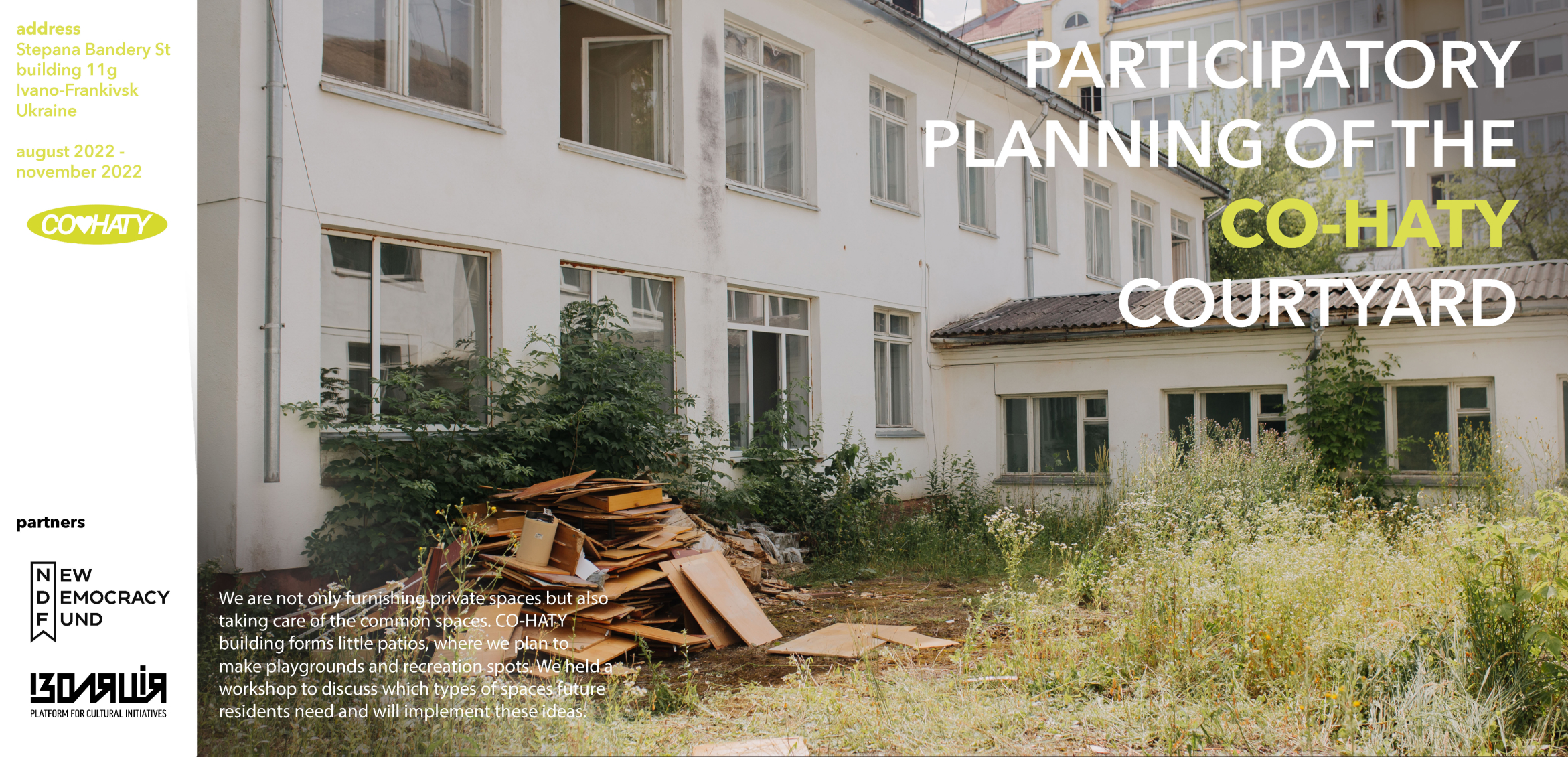 1 September 2022 — 30 November 2022
Participatory planning of the courtyard of the collective center in Ivano-Frankivsk for 140 IDP
Based on the result of a series of co-design workshops with future residents of the shelter, tenants of the building, visitors, representatives of the city and regional administration in Ivano-Frankivsk, the first most urgent spatial solutions are currently being implemented.
CO-HATY not only furnishes private spaces but also takes care of the common spaces. For example, arrangement of little patios, where it is planned to create playgrounds and recreation spots. We held a workshop to discuss which types of spaces residents need and will implement these ideas.
Aim of workshops is to co-design and build an open space area next to the collective center for 140 IDP in Ivano-Frankivsk. CO-HATY team leads a transformation of an abandoned kindergarten to provide co-living space for IDPs. The project focuses on the work inside the building. While the outside area remains untouched. The idea of this project is to design a new connection of this center into the city, namely the park and amenities nearby, and design and build a playground on the territory. This will help to compensate for a shortage of communal space inside the building by adding public space outside of it.
During the week, several discussions were held – with future residents of the building, with children attending Caritas activities, and with the city and regional administrations. To picture their ideas for this space, everyone found their tool – for someone, it was a collage, and for someone – a lego construction. Also, the workshop included photographing, interviews, drawing, and mapping.
Through the discussion, it was clear that adults would like to have both aquiet zone for relaxing, and an active one for sports or games. And children are interested not only in playing, but also in looking at the plants in the garden. Also, there is the idea of creating a space for guests, for example, Caritas visitors, so that the yard wouldn't feel closed off.
---
ABOUT PROJECT
CO-HATY is a project to create comfortable and decent housing for people who were forced to leave their homes due to the Russian-Ukrainian war.
The pilot project was the restoration of a part of the university dormitory in Ivano-Frankivsk. In May, the renovation was completed and people are already living there. CO-HATY is currently renovating two more facilities in Ivano-Frankivsk — a hotel and the former building of the Department of Education, where a total of about 240 people will be able to live. In September, the project also started the renovation of a dormitory for 250 people in Kamianets-Podilskyi.
CO-HATY implement architectural and urban expertise, cooperate with local governments and property owners, raise budgets for repairing and furnishing, and coordinate the construction process.

---
PROJECT PARTNERS
The workshop and further implementation are supported by New Democracy Fund and IZOLYATSIA Foundation, with participation of Ivano-Frankivsk City council, Department of Education in Ivano-Frankivsk, Ivano-Frankivsk Regional Administration, Caritas in Ivano-Frankivsk, NGO Spivdiia
---
PROJECT ORGANIZATIONS
NGO Metalab
NGO URBAN CURATORS
Photo archive
Video archive