Artist Catalina González in residence at IZOLYATSIA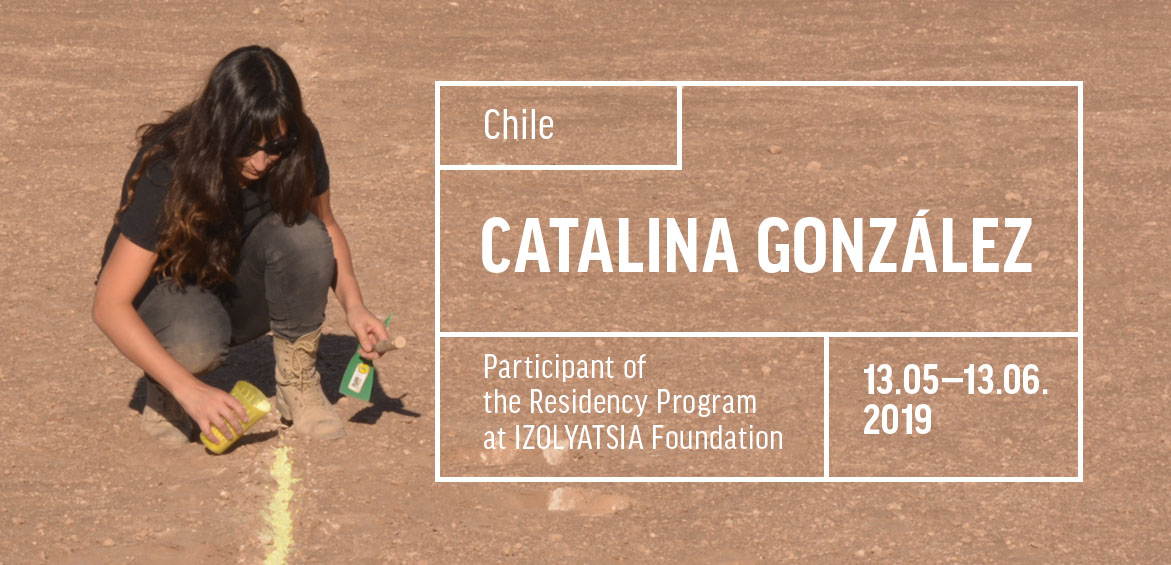 13 May 2019 — 13 July 2019
On May 13 – June 13, 2019, the Netherland-based artist from Chile Catalina González is a new resident at IZOLYATSIA.
Catalina González is a multidisciplinary artist that lives and works Amsterdam. Her research is linked to issues of spatiality through moving image and sculpture, generally trying to poetically unravel visible or invisible issues in social as well as territorial plots. Her projects are based on her own experiences in different context, developing experimental actions and interventions, revisiting memory and landscape as aesthetic possibilities with a critical look as a result of abuses of power.
Catalina got a Bachelor degree of Fine Art in ARCIS, Santiago, Chile. She has exhibited in Chile as well as abroad. In 2007 she receives the MAVI Bicentennial award, in 2015 the first prize between Cha.co & Finlandia for her work Umbra, in 2017 she obtains the CCU scholarship, participated in art residences such as A.I.R Austria, 2006, AIAV Akiyoshidai Japan 2016, Shangyuan Art Museum, China 2018, among others. Her work has also been included in publications such as European Month of Photography (2008, Vienna-Austria), Creole Image, photographic practices in the visual arts of Chile, Nathalie Goffard (2013), Paisajes Tarapaqueños by Rodolfo Andaur (2015). Catalina lives and works in the city of Amsterdam as a resident of Rijksakademievan beeldende kunsten 2019-2020. More about her artistic practises on her site https://www.cata-gonzalez.com/
On May 30, at 7PM Catalina González will give an artist-talk at the IZONE Creative Community, vul. Naberezhno-Luhova 8. At the talk, Catalina will provide more information about her new project, Oscillators, grooves and zigzags, that explores spatial relationships of the woman and her environment that make up a memory and that will be then transformed into an ambiguous dialogue between reality, poetry and the artist's actions in the place.